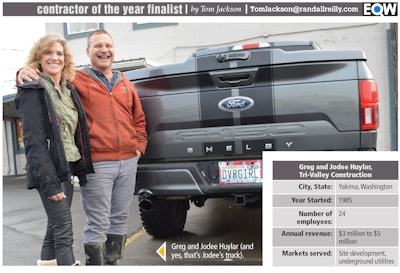 Greg Huylar was born and raised on the Yakima Indian reservation. His father was a cattle rancher, tending up to 350 head, and Greg spent the better part of his youth on horseback working cattle in the mountains of Washington state.
Despite studying agriculture in college, Greg didn't want to spend the rest of his life on the farm. "The best thing about college was I met Jodee," says Greg about his future wife. Jodee's father had a successful crane company, and Greg went to work for it, painting cranes and welding, whatever he could do to be useful.
But Greg didn't see himself sitting in a crane 10 to 12 hours a day either. He wanted more action and to see what he could do on his own, so in 1988 he bought an older Cat 416 backhoe. "It was one of their first models – ROPS, no cab," says Greg, "I had to tow it with my pickup truck."
With that, he and Jodee started building a construction company. They later acquired a well-used 1972 Kenworth truck and another employee. Tri-Valley Construction started to show potential, but Greg and Jodee realized they had to do more. "We either had to get bigger or go out of business," Jodee says. "So we decided to bid bigger work."
Replacing the backhoe
Since those early days, Tri-Valley's equipment and trailering portfolio has improved considerably. Today the company has seven trucks and dumps, as well as three-axle tilt decks, a lowboy and a hydraulic beavertail trailer. Greg says he can get three pieces of equipment on the beavertail, which makes it ideal for out-of-town jobs.
Greg has also replaced his backhoes with skid steer/compact excavator duos. "You can spin 360 degrees with those mini-excavators and shift the boom to the side to clean out a ditch," he says. "You can dig and dump 90 degrees behind you. Building sidewalks is a dream with these things. You can cut subgrade and put down gravel with the same machine. They've just become part of our life." Tri-Valley now has four compact excavators and two skid steers, recently adding a Cat 314 and 313.
Loyal employees
Maintaining the size of the business has been good for employee relations, and a big part of Greg and Jodee's success has been their loyalty to their employees. "We treat them as family," says Jodee. "We give them good benefits, the kind of benefits that we would want. If their kid has a game, we give them the time off because you can't get those hours back."
Although the company is non-union, the pay and benefits come close to union scale, says Greg. "We keep our employees around because they are our family, and we do a lot of those little extra things, like help them out on their own personal projects. A lot of the guys like to work on their vehicles at our shop. There's a lot of things you can do."
The company also doesn't fret much about prior experience. "Most of our people came to us without a CDL or any previous dirt work," Greg says. The company will give new hires time and advice on how to pass the written test for a CDL and even let them practice driving trucks around the yard. More experienced employees are tasked with raising the skill levels of the new workers, and as a result, almost
everybody in the company has a CDL and can work multiple jobs.
"Most of our employees started as young people who didn't know anything," Greg says. "They started out washing trucks and worked their way up to running jobs."
Recession proof
While the recession of 2008-2011 wiped out more than a few contractors, it hardly phased Tri-Valley Construction. "We didn't flourish, but we worked through it," says Greg, "and we came out with flying colors. All those people who went under, we were buying their equipment."
Yakima is an agricultural community with some of the largest and most successful fruit orchards in the country. And people have to eat. So with that to bolster the region's economy, Yakima continued to build schools, hospitals and warehouses and invest in its civic infrastructure.
"While the rest of the country was up in arms about real estate, our farmers were still growing fruit, and our economy wasn't hit nearly as bad as places like Seattle with all the tech businesses," Greg says.
Second-chance hiring
Yakima, like Seattle two hours to the northwest, has its share of homelessness and drug issues, which only add to the widespread problem of finding dependable employees.
But Greg and Jodee are big on second chances and don't hesitant to hire people with a checkered past if they can pass a drug test and are willing to work. "Some people come in the door, and they may have a shady background," says Jodee. "But if we can, we like to give them a chance. Just because you screwed up in high school doesn't mean that when you're 25 you are the same screw-up you were then. And if somebody doesn't give them that chance, they may go back to their old lifestyle."
"Everybody deserves a shot," says Greg. "We had one kid who came to us, and we told him like we tell everybody, we're going to do a background check and a drug test. Turns out he got into trouble and was using heroin in Seattle. But he got into treatment and moved out here with his wife to start a new life and to get away from the sources of his addictions. He passed the drug test, and he's one of the best and most loyal employees I have."
Greg relates the story of another young man who interviewed well but didn't pass the drug test and was not hired. "Jodee and I sat on that for two months and then called him back. I asked him, 'Do you still want to work, and can you pass the drug test?' The answer was yes to both questions, and he stayed with us for six years."
Customer appreciation
Early on Greg and Jodee focused on growing the business. Today they focus on making sure they earn their customers' loyalty. "When one of our customer-friends has a project, we marry into that project," says Greg. "And if something comes up that we can't charge for, then we don't charge them for it. That's why we get a lot of these contracts. When there is a change in the scope of work, then everybody is going to get their money. But if it's a gap in the scope, somebody has to bite the bullet, and that's why they want us back."
Benjamin Stephens at Stephens and Son Construction says of Tri-Valley: "Greg's a handshake kind of guy. He always follows up on what he says he's going to do, and he's always doublechecking, make sure that everything's going right. As stressful as this business is, everybody who works there seems to be pretty happy. My wife's cousin's husband works for them and he goes to work up to a half an hour early just to sit and talk to the guys in the shop before he heads out to work. That's a family atmosphere, you know, when things are like that."
Jeff Durfee at Fowler General Construction says Tri-Valley's flexibility makes it a top choice for general contractors. "They do care about my schedule," he says. "There have been times when there were conflicts in our schedules, but if they know it needs to be done, they go ahead and do it. So many contractors demand a change order, but they do right by their customers."
Marriage and teamwork
Greg and Jodee keep the crane and construction sides of the business separate. But it's obvious their teamwork and partnership have helped both thrive. When Greg says getting out of bed in the morning and going to work is the key to success, he really means it. He and Jodee make a point of rising at 3:30 a.m. so they can put in time at the gym before the workday starts. (Jodee competes in professional bodybuilding events.)
But the couple are also protective of their marriage, with clearly defined roles and an understanding of the value of work-life balance. "We have our own areas that we specialize in, and we try to stay out of each other's way," says Jodee. "And at the end of the day, we don't take our work home with us."