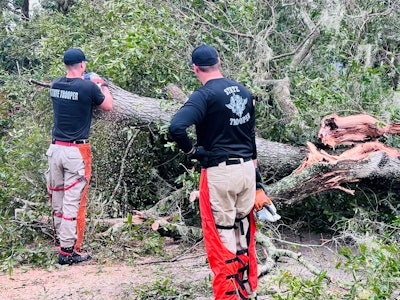 Florida Highway Patrol Tampa
Editor's note: This story was updated on October 10, 2022.
Hurricane Ian was one of the most powerful storms in Florida history, leaving a trail of destruction across the state. After blasting through Florida September 28-29, the storm crashed into South Carolina on September 30 and moved into North Carolina and Virginia.
For subcontractors with dump trucks, knuckle booms, skid steers and other debris-clearing equipment, responding for debris loading and hauling services can be an economic boost, a good way to make business contacts and gain experience, as well as provide a much-needed service to help victims of natural disasters.
But there are some pitfalls, and subcontractors need to be careful when seeking work after a hurricane or other natural disaster. They also need to plan ahead, before the storm strikes.
Only work for the prime
For one thing, disaster areas tend to attract con artists. These fly-by-night outfits swoop in and often are not licensed. They prey on desperate storm victims and can also entrap well-meaning subcontractors who may find themselves getting stiffed on their compensation.
"There's a lot of crooks," says Al McClaran, part owner of Southern Disaster Recovery. In 2020 when we spoke to him his company was fulfilling cleanup contracts in Iowa following that year's derecho, a wall of high wind and heavy rain that struck the Midwest. Southern also played a role in hurricane cleanup in coastal North Carolina following major storms.
McClaran recommends only working for the prime contractor, the one with the contract for the cleanup.
"I would never work for anybody other than the prime," he says. "I would never work for a guy that is a broker sitting in his doublewide somewhere making arrangements, making a quarter a cubic yard off everything."
He suggests that subcontractors interested in working in disaster cleanup contact one of the large disaster-response contractors, which sign cleanup contracts well in advance of a storm's arrival.
Line up work in advance
Simply showing up for work with your equipment in a disaster area can also pay off, but the risks are higher.
"There are some people that just show up with their trucks, and they usually go to work," McClaran says. "That's a good method, too. But a lot of times, they'll go to work for somebody that may be a broker, may not be the prime contractor. The odds of getting paid in those situations can get a little scary."
He says he's also heard of situations where subcontractors will get paid for all of their work, then get stiffed on the retainer, which is usually 10 percent. "Well, that's your profit," he says.
Another pitfall of just arriving without lining up work in advance occurs when, as in the case of Hurricanes Florence and Michael in 2018, flooding kept cleanup crews out of disaster areas until the water receded.
Disaster contractors also often line up the subs they will need before the storm strikes.
So, if you're serious about getting into the disaster-response business, it pays to prepare well in advance.
Don't get scammed
Here are some other tips for subcontractors from Courtney Little, president of the American Subcontractors Association:
"First and foremost is making sure you're licensed or registered in the state (you'll be working in). That's your first line of defense, because some states, if you're not registered or licensed, you cannot get paid."
Make sure you follow the state's rules on liens, bonding and payment protection.
Do background checks on the contractor to make sure it is a reputable firm. Many states, including South Carolina, North Carolina and Florida, have websites with searches to determine if a contractor is licensed. "We tell people the best way to get paid is to know who you're dealing with in the first place."
"Be very clear about the scope of work you're producing and the expectation and get that in writing…make sure you have a clear written contract of terms that both parties have signed off on."
Disaster response contractors
McClaran, of Southern Disaster Recovery, recommends subcontractors have all their insurance in place, including workers' compensation.
He also suggests contracting with the major disaster recovery companies. They contract with federal, state and local governments and sign contracts for several years to be prepared should disaster strike. They typically mobilize before the storm hits. Most have forms on their websites that subcontractors interested in work can fill out.
The following companies often hire subcontractors for a variety of disaster response work all over the country and have online applications for subs: