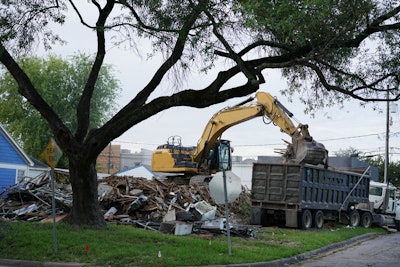 Editor's note: This story was updated October 7, 2022.
Hurricane season seemed to get a late start this year, and then Ian appeared. The Category 4 hurricane pummeled Florida, where residents are facing years of cleanup and recovery.
Along with other disasters around the country, from floods to wildfires, cleanup and reconstruction will be needed to help devastated communities. Being in a position to provide those services takes careful, advanced planning before a disaster strikes.
"It's always better if a company gets ahead of a disaster," says Cindy Carrier, program manager for the Louisiana Procurement Technical Assistance Center. "Because sometimes when the disaster happens, things are happening so quickly."
And the government entities, like the Federal Emergency Management Agency, that are seeking contractors for post-disaster work require registration within their procurement systems. "If you have to register with FEMA and get on their database … sometimes they've already let a contract while you're still trying to register," Carrier says.
Jane Dowgwillo, program manager for the Florida Procurement Technical Assistance Center, says her office quickly gets swamped after a hurricane strikes, with calls and emails from all over the country from businesses looking for contracting opportunities. They want to come right to the state and want to know where they should go.
"Back up, you need to get prepared," she says. "You really need to be properly registered before you even think about it."
How to get prepared
Both Carrier and Dowgwillo say the first step for any contractor looking to perform disaster-response work should be to contact their state's Procurement Technical Assistance Center. That's true even if the work is in another state. Contractors can find their local PTAC by going to the Association of Procurement Technical Assistance Centers website and clicking their state on the map on the home page. They will then get a list of centers and contact information.
There are more than 90 such centers around the country, in each state and in Puerto Rico and Guam. They are partly funded by the U.S. Defense Logistics Agency with the rest matched by state and local governments and nonprofit organizations. Many of the centers are on state university or college campuses, and there are more than 300 PTAC local offices.
Their services are free, including one-on-one counseling. Services include helping to register with the proper government procurement systems, as well as finding bidding opportunities and preparing proposals.
The PTACs also reach out to their counterparts in other states to help businesses find opportunities there. "So if it's an Arkansas company, but the bid lead is coming from Louisiana, they're still going to get it," says Carrier. "They can meet with their Arkansas PTAC to help them with quoting it, or writing a proposal if they have to."
Carrier says her office searches 3,500 websites each day for bid leads for clients. It uses keyword searches for the type of contracts the business wants, such as "debris removal." Relevant leads are then emailed to the client.
"If our Louisiana-based companies say, 'We can do business across the United States,' then we're searching all of the counties that are in all of those states," Carrier says. "And then there may be small local governments that maybe post in a newspaper. So we're looking for those opportunities as well."
Federal contracts
After contacting a PTAC and setting an appointment with a counselor, the next step involves registering with the federal government's System for Award Management (SAM).
SAM is run by the U.S. General Services Administration, and any contractor that wants a federal contract has to be registered in it. That includes performing work for FEMA or the U.S. Army Corps of Engineers, which also handles debris cleanup after disasters.
The sam.gov site has become the GSA's primary clearinghouse for government contracting, consolidating other sites into one. It now has such resources as: entity registration, disaster response registry and contract opportunities.
The free SAM registration process can be tedious, and minor errors can cause delays, such as entering a slightly different company name than is listed with the Internal Revenue Service, Carrier says. The IRS is linked to the system to make sure companies registering are legitimate.
Though some for-profit companies advertise they can guide businesses through the process, PTAC counselors will help businesses register at no cost. Dowgwillo says the companies make claims to register clients in record time and land contracts. They charge $300 to $600 and some as high as $2,000 to $3,000. But she says they have no special "in" with the GSA.
"We, unfortunately, deal with a lot of disappointed people that have handed over their credit-card details and never get to see that money again," she says.
SAM requires the following steps to register:
Get a Unique Entity ID. This is a 12-character ID with a mix of numbers and letters. As of April 4, 2022, it replaced the DUNS number, which is no longer valid for registration.
Prepare your data. To get the UEI, you will need these items to register: your business entity's legal name and physical address. P.O. boxes may not be used for the physical address. You may also need to provide the date and state of incorporation for the business. The website says that as of July 5 business name and address validation is taking longer due to high demand.
Create a login.gov user account (if you don't already have one). You will use that login.gov username and password every time you log in to SAM.gov. It also gives you login access to such government programs as federal benefits, services and applications. It takes a few minutes to create the account.
After taking those three steps, you are ready to register on sam.gov.
During the registration process, indicate that you want to participate in the Disaster Response Registry. That way contracting officers can locate your information when performing a search of the registry.
Some SAM registrants may also be asked to provide a notarized letter to verify that the person filling out the registration represents the contractor. You will receive a request for this letter if it is required.
The process culminates in being assigned a five-character CAGE code by the Defense Logistics Agency, if you don't already have one, to identify a specific facility at a specific location. It's required for businesses to get paid for federal contract work. It takes about 10 days to become registered with SAM after submitting your information, according to its website, and another 24 hours for your registration information to be available in other federal systems.
There are other databases for federal contracts under $25,000 that PTAC will also help businesses register for and will monitor for them.
State and local contracts
One thing contractors should be aware of is that FEMA is required under federal law to contract with businesses located in affected areas when "feasible and practicable," according to the Association of Procurement Technical Assistance Centers. That can make it more difficult for contractors outside of the disaster area to win contracts, and all the more reason it pays to make plans before a disaster strikes.
Many states have their own contracting and procurement systems, which contractors will want to register for. Again, PTACs can help by contacting the PTAC in the state where the contractor wants to work to find out what steps are required there, Carrier says.
Insurance companies
Another place to check for disaster work is with insurance companies.
According to the Insurance Information Institute, most insurance companies maintain a list of approved private contractors that they share with their policyholders in a claim situation. These approved contractor lists are not shared with the public. Now is the time to get on these lists, assuming you meet each company's qualifications.
To get on a list, the institute suggests contractors call the insurance companies and ask to be directed to the "property repair program" in the claims department. Each company will have its own requirements for insurance, bonding, etc.