Following December's 13-percent hike, the value of new construction starts in January slipped 2 percent to a seasonally adjusted annual rate of $725.9 billion, according to Dodge Data & Analytics. In addition, the Dodge Index for January was 154, compared to December's revised 156 and November's 138.
There were several contrasts to the December results. What Dodge terms the "nonbuilding construction sector," made up of public works projects and electric utilities/gas plants, pulled back 18 percent after surging 45 percent in December. The December gains were the result of the start of the $2.3 billion I-66 Corridor Improvements Project in northern Virginia and a I-66 Corridor Improvements Project in northern Virginia in California, according to Dodge.
The nonresidential building sector, however, saw a slight 1 percent gain from December, which included the groundbreaking for the $1.3 billion domed stadium in Las Vegas, the new home for the former Oakland Raiders of the NFL.
And the residential building sector climbed 7 percent in January compared to December. One underlying reason: a rebound for multifamily housing after three straight months of declines.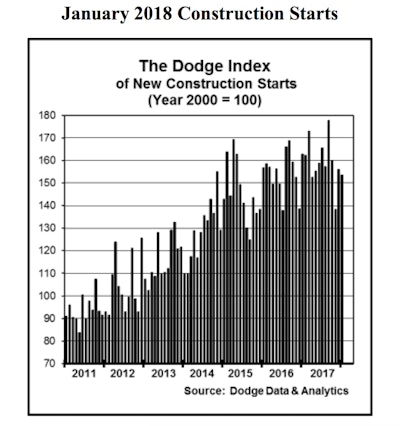 Compared with the same month last year, total construction starts in January were $52.2 billion, down 7 percent from the same month a year ago. On a 12-month moving total basis, total construction starts in the 12-months ending January 2018 were up 2 percent from the 12 months ending January 2017, Dodge says.
Regarding the Dodge Index, the company reports an up-and-down pattern during 2917. "The 154 reading for the Dodge Index in January, along with December's 156, shows construction starts climbing back close to last year's mid-range of activity," Dodge says. "For 2017 as a whole, the Dodge Index averaged 159."
According to Robert A. Murray, Dodge chief economist, varied factors will affect construction going forward. "Some dampening may come from higher material prices and tight labor markets, yet while interest rates are rising the increases are expected to stay moderate this year. The tax reform legislation is anticipated to lift economic growth in the near term, which may benefit commercial building and manufacturing construction starts." In addition, the Trump Administration's infrastructure program still needs to pass Congress, which is also dealing with a growing federal budget deficit, perhaps limiting benefits for public works projects this year.
On the plus side, the institutional side of nonresidential building should stay close to last year's elevated pace, Murray says.