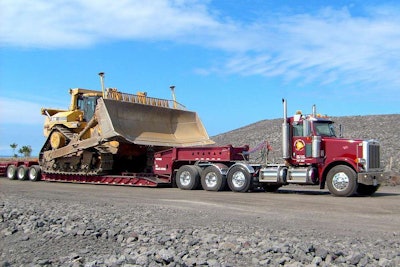 With new generations of engines and improved oil formulation, fleets and OEMs have added tens of thousands of miles to engine oil drain intervals that have now crept upwards of 75,000 in some long-haul segments.
A fleet's application isn't the only factor in how long a drain interval can be pushed. The filter has to be up to the task.
Cummins Filtration Liquid Filtration Research and Technology Manager Jonathan Sheumaker says it's important to be sure the filter's gaskets and the media got will last through the intended drain schedule and are rated for whatever the new service interval will be.
Champion Laboratories, Inc., Director of Heavy Duty Engineering Todd Krzycki adds media and gasket durability, higher capacity and suitable adhesive are among major considerations in looking for a longer-lasting oil filter.
"Media and gasket materials can break down over time, so upgrades in these areas are required for extended drain intervals," he says, noting all Luber-finer filters are specified for standard OE recommended change intervals. "The higher-capacity filters in Luber-finer's XL line are made with more durable synthetic media for extended drain intervals."
Sheumaker says filters in most cases will outlast the oil, adding "we don't see high restriction – what fleets call 'plugging' – until the oil starts to degrade. The actual service life of a filter is not really a concern as long as the oil remains within the OE limits."
In the early days of oil filtration, saw dust was a key component. That's since been replaced by sophisticated pulp and resin blends and polymer-based media, but Sheumaker says not to get caught up in the various types of filtration media. He says it's most important to spec the filter that best suits your intended drain intervals.
"It's most important that the filter provide the correct level of filtration at the lowest possible restriction," he says. "More pumping power is just a parasitic loss for the engine. It's hard to measure but it can have an impact on fuel cost in the long run."
As more fleets migrate to longer life synthetic oils, Sheumaker says it's become an increasingly common practice to replace the filter on a shorter cycle than the oil – a practice he thinks is unnecessary in almost every case.
"There's no data that suggests there's a need to swap out the filter before replacing the oil [on an extended drain interval]," he says. "It comes down to the oil quality and how long that oil lasts. As long as oil remains healthy, we don't see an issue with [filter] restriction."
Krzycki says all standard viscosity grades work with standard oil filters, but higher viscosity oils have the biggest impact on the flow restriction and durability of an oil filter's media.
"In a high-viscosity or cold-flow condition, the restriction is higher, which shortens the life of the filter," he adds.
Late last year, trucking was introduced to two new engine oil categories – FA-4 and CK-4. The new oil formulations were designed for better performance in modern hotter-running engines and in some cases, stretch drain intervals.
"We've seen no impact [from FA-4 and CK-4 oils]," Sheumaker says. "If anything they are helpful, thanks to better oxidation resistance, better sheer stability, and all the other improvements."
Higher temperatures and high sheer oils can reduce the life of an oil filter's media, plastisol and gasket, but Krzycki notes that filters are engineered and designed to withstand a higher operating temperature range that what is common on the highway.