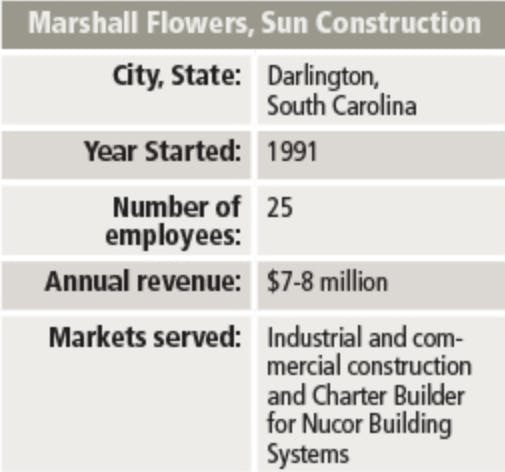 As you pull off Gov. Williams Highway in Darlington, South Carolina, and onto the property of Sun Construction, the first thing you notice is how much land the company sits on. And if you keep your eyes to the right as you make your way down the long driveway, you get a clue as to why the office sits among so much green.
Just off this driveway is a silo. It's one of few remnants from the many decades when the property was a dairy farm.
That dairy farm once belonged to owner Marshall Flowers's father, Frank. "In the seventh grade our milking man gave daddy notice that he was going to work at the steel mill," Flowers says. "So me and my two brothers were told that we were going to start milking cows before school and after school. We did that all through high school."
Those days of milking cows are now long behind him, but the silo remains, not 100 yards from Flowers's office window, as a reminder of where he came from. "I just knew if I wanted to make something for myself and my family, I was going to have to dig for it," he recalls.
Today, Flowers is the owner of Sun Construction, a finalist in our 2017 Contractor of the Year program and the winner of our annual Contractor of the Year Safety Award. It's fitting that our story starts with an employee leaving to work at the steel mill, which was Nucor Steel, a fixture in the Darlington community. While as a boy the mill caused Flowers a whole lot of early mornings and hot afternoons with the cattle, as a business owner, his commitment to safety has made him Nucor Steel Darlington's primary civil contractor since 1992.
Hands-on learner
But life on the farm wasn't all about milking cows. To fully understand Flowers's construction business, you need to understand that he built it skill by skill, learning along the way as he worked the land and built up his family's operation alongside his father.
For starters, Flowers learned early on that he had a talent for fixing equipment. And when the family expanded the farm during the 1970s, he learned how to install center pivot irrigation systems, read blueprints and pour concrete. He estimates that he and his father worked to clear about 450 acres during the farm's expansion.
"I learned on the dozer clearing land, on trenchers putting in PVC and we ended up buying a motor grader and track hoe and a second dozer," Flowers recalls. "That's where I cut my teeth on learning how to bid, as well."
The farm expanded from a 100-cow facility to a 400-cow facility and Flowers estimates that he and his father poured about 2,000 cubic yards of concrete in building the family dairy.
By the time financial hardship struck the Flower's farm in the mid-1980s, forcing his father to sell his interests, Marshall had owned an irrigation franchise, built an 85-acre lake for the farming irrigation needs, and worked in the utility business installing fiber optic cable – all while splitting time with his duties on the farm.
Entering construction
Seeing this experience and skill, the man his father sold the farm to asked Flowers if he'd like to lead a new construction business he had started, using leftover heavy equipment from a rock quarry sale.
Flowers accepted and was handed most of the day-to-day responsibilities of running the new company. And though it was rough sledding, requiring under lengthy commutes to three surrounding states, he says it gave him the experience of building a construction company from scratch.
In 1991, hoping to spend more time with his family and confident in his ability to run his own business, Flowers started Sun Construction.
In the time since then, Sun has grown to 25 employees and between $7 million and $8 million in annual revenue. The company performs site prep, heavy concrete placement, demolition, in addition to its role as a contractor erecting commercial and industrial buildings as a builder for Nucor Building Systems.
"We typically don't bid state work though we have done some county work," Flowers says. "Today we mostly negotiate with private companies like Honda, Westrock, CMC Steel and Nucor Steel." He says Sun supplied and erected the main structure of Honda's ATV manufacturing facility in Timmonsville.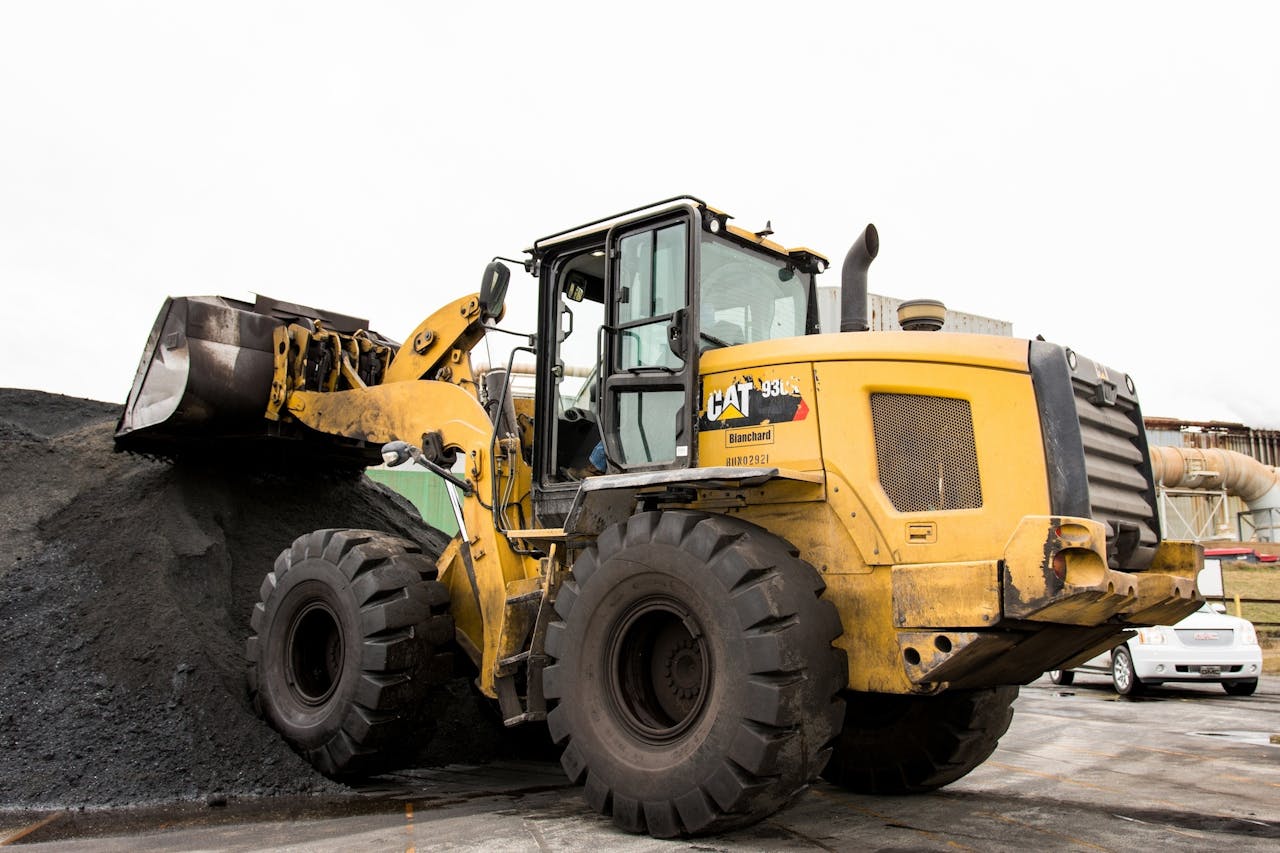 A focus on people and safety
The success of Sun enabled Flowers to buy back the family farm where he has stayed active in the cattle business; his son now runs that side. "God has been very good to me and my wife," he says. "I've always tried to build my business on repeat clientele and that's worked very well for us over the years."
Flowers attributes his success and the company's resiliency during the economic downturn to his people. "Our diversity got us through the recession," he says. "We have versatile guys."
And while he says managing people is the most challenging aspect of owning a business, Flowers takes pride in "motivating people to do quality work."
"We make sure that we maintain our reputation," he says. "I've always strived for Sun Construction to say what we're going to do and then do what we said."
And his employees have remained loyal to the company. "Between myself and my three project managers, we have more than 100 years of construction experience combined," Flowers says. "One project manager has been here 21 years. I have people in the field that have been here 23 years. My average length of service is probably 11 plus years."
Flowers honors that loyalty with a serious commitment to safety. Sun Construction has a 0.77 experience modification rate and a lost time incident rate of 0. These excellent numbers are largely a result of the company's diligent work at maintaining certification with ISNetworld (ISN).
ISN acts as a go-between for contractors and 500 clients around the world. The company says it acts as a qualification service for its clients by "collecting and reviewing safety, insurance and regulatory information" from contractors. And contractors benefit from a streamlined reporting process, improved safety and the ability to easily report their safety standards and performance to multiple clients.
Flowers has placed Keith Hill in charge of the rigorous task making sure Sun stays within ISN compliance. "Five of our customers are ISNet World clients," Hill Says. "Getting set up is key. I worked for several months on the application, which was comprised of hundreds of questions. Once all of the questions were answered, ISNet says here are the requirements that need to be met to qualify. Once qualified, you have to maintain a satisfactory grade. With some companies, like Nucor, they're only two grades: an "A" or an "F"."
"So you just have to constantly train. And quarterly you submit where you are with OSHA's 300 law. Plus it's not cheap. It costs us about $2,200 annually in addition to the time we put into it."
But Hill says in the end, the safety of Sun's employees is worth the extra work.
"Safety is more of an awareness thing than anything else. You have to keep it in front of you," he says.
Flowers says the company holds weekly safety meetings along with tool box talks. "We also have a bi-monthly non-employee meeting with a certified safety consultant where they come in and help us with safety training," he says.
Curry Dawkins of Dawkins Concrete called Sun's safety requirements "rigid" while Nucor Steel's Trey Fox called the company's program "top notch."
Dawkins says Flowers is "one of the finest individuals and contractors you will ever meet. He is not only liked by all but is highly respected by his friends, employees, customers, subcontractors and vendors."
Fox, a district manager at Nucor, calls Sun Construction a "top tier contractor." He adds, "He's done over $10 million in shipments with our division, which is phenomenal in the market he's in. I don't know if there is another customer of his size and the size of his market that's gotten near that."