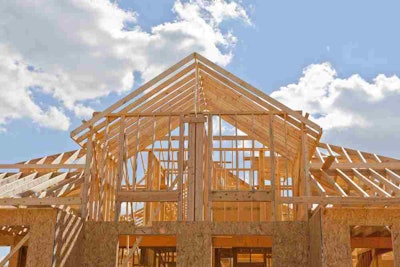 The start of construction on new homes in the U.S. fell during January due to a drop in multi-family units.
Total home starts fell 2.6 percent to a seasonally adjusted annual rate of 1.246 million but remain up 10.5 percent over the January 2016 rate, according to preliminary data from the Commerce Department. This latest data release also revised the estimate for December to 1.279 million. The revision does not impact December's previously reported monthly increase in home starts of 11.3 percent.
Single-family units rose 1.9 percent during January to a rate of 823,000 and are now up 6.2 percent year over year. Multi-family units fell 7.9 percent to a rate of 421,000 but remain up 25.7 percent year over year. This month's dip in multi-family starts follows a December that brought a huge surge from that sector of 54 percent.
U.S. home starts since January 2012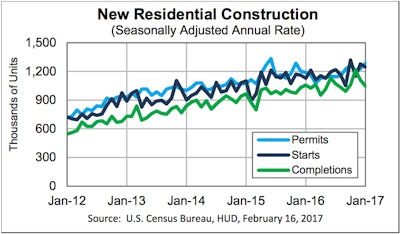 Building permits, a good barometer of how the homebuilding industry is trending, increased in January, rising 4.6 percent to a rate of 1.285 million. Permits are now up 8.2 percent over the January 2016 rate.
The National Association of Home Builders reports that confidence among its members fell 2 points to a 65 in the latest release of the NAHB/Wells Fargo Housing Market Index. Any reading above a 50 indicates most home builders believe market conditions are good.
"While builders remain optimistic, we are seeing the numbers settling back into a normal range," said NAHB Chairman Granger MacDonald. "Regulatory burdens remain a major challenge to our industry, and NAHB looks forward to working with the new Congress and administration to help alleviate some of the pressures that are holding small businesses back and making homes less affordable."
"With much of the decline this month resulting from a decrease in buyer traffic, builders continue to struggle to minimize costs while dealing with supply side challenges such as a lack of developed lots and labor shortages," added NAHB chief economist Robert Dietz. "Despite these constraints, the overall housing market fundamentals remain strong and we expect to see continued growth this year as some of these concerns are addressed."