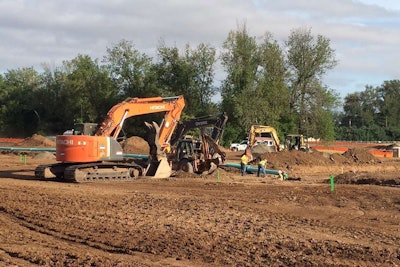 The latest data from the federal government indicate increases in both construction employment and the start of construction on new homes.
The U.S. construction industry added 36,000 jobs in January and now employs 6.809 million Americans, according to preliminary data from the Labor Department. The figure represents a 2.5-percent increase over the January 2016 employment total and the highest employment total since November 2008 when 6.813 million Americans were employed by the industry.
Construction's unemployment rate rose 2 points during January to 9.4 percent.
Construction employment since January 2007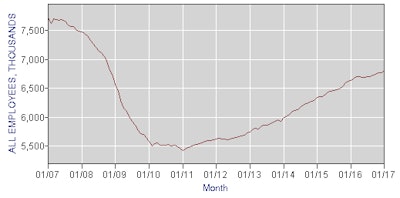 Home starts rise with leap from multi-family
Meanwhile in the residential sector, homebuilder confidence has fallen slightly as home starts rose during December despite a decrease in single-family units.
Total home starts rose 11.3 percent in December to a seasonally adjusted annual rate of 1.226 million, according to preliminary data from the Commerce Department. A huge 54-percent increase in multi-family units to a rate of 417,000 powered the monthly gain. Single-family units dropped 4 percent during December to a rate of 795,000.
Total starts finished 2016 up 5.7 percent from the previous year. Single-family starts are up 3.9 percent year over year while multi-family is up 10.3 percent.
Building permits, a good barometer of how the homebuilding industry is trending, were down slightly in January, falling 0.2 percent to a rate of 1.210 million. Permits ended the year up 0.7 percent over the 2015 rate.
The National Association of Home Builders reports that confidence among its members fell 2 points to a 67 in the latest release of the NAHB/Wells Fargo Housing Market Index. Any reading above a 50 indicates most home builders believe market conditions are good.
"Builders begin the year optimistic that a new Congress and administration will help create a better business climate for small businesses, particularly as it relates to streamlining and reforming the regulatory process," says NAHB chairman Granger MacDonald.
"NAHB expects solid 10 percent growth in single-family construction in 2017, adding to the gains of 2016," added NAHB chief economist Robert Dietz. "Concerns going into the year include rising mortgage interest rates as well as a lack of lots and access to labor."