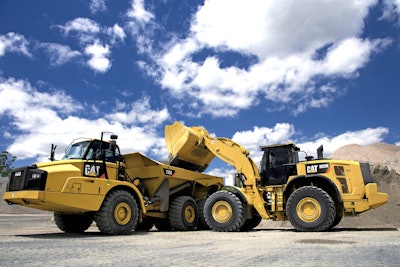 Caterpillar has announced plans to move its worldwide operations to the Chicago area later this year and will no longer build the Peoria headquarters complex as previously announced.
The company says a "limited group" of support functions and senior executives, adding up to about 300 employees, will be located in Chicago when the new office is fully operational. While the current headquarters building will still to be used, some of the positions at the new site will be relocated from Peoria.
"Caterpillar's Board of Directors has been discussing the benefits of a more accessible, strategic location for some time," says Caterpillar CEO Jim Umpleby. "Since 2012, about two-thirds of Caterpillar's sales and revenues have come from outside the United States. Locating our headquarters closer to a global transportation hub, such as Chicago, means we can meet with our global customers, dealers and employees more easily and frequently."
Umpleby says the "vast majority" of the company staff will stay in the Central Illinois area, and emphasized that Peoria "will continue to be our hometown."
"If Caterpillar succeeds globally, we win in Central Illinois," says Peoria County Board Chairman Andrew Rand. "I'm disappointed we can't keep every job here, but if moving some of its team near Chicago helps Caterpillar thrive, it will benefit Peoria, our county and the surrounding communities."
Cat says the company, its employees and retirees have contributed more than $60 million over the past five years to support "thousands of families, organizations and programs" in the area, with continued "philanthropic support and deep civic involvement" planned in the Peoria area.
"As mayor, I never want jobs moving out of the city," says Peoria Mayor Jim Ardis. "However, the overwhelming majority of Caterpillar employees and their families based in the Peoria area won't be impacted by this decision. I'm pleased Caterpillar continues to call Peoria its hometown."