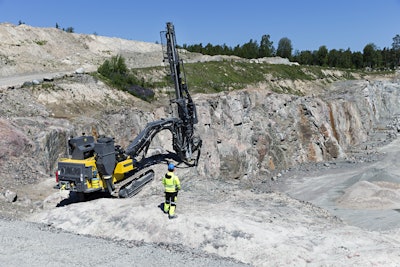 Atlas Copco's board of directors has proposed splitting Atlas Copco Group to create a separate company from its Mining and Rock Excavation Technique Business Area and Construction Tools division with the aim of being dedicated to mining and civil engineering customers.
This new company would include 12,000 employees from these two business units and would have its own board of directors and CEO. Atlas Copco says there would be no change to the existing structure.
Plans are to list the company on the Nasdaq Stockholm stock exchange in mid-2018 if the restructuring is approved in April that year during the Atlas Copco Annual General Meeting.
"With the new company solely dedicated to mining and civil engineering we can serve our customers even better than today," says Helena Hedblom, Business Area President, Mining and Rock Excavation Technique, who was named to the position Jan. 1.
"From an organizational point of view there will be no changes. We have strong Customer Centers, professional people, excellent products and superior services. Our customer support will be reinforced as we can run operations more focused from present premises," Hedblom added.
Torbjorn Redaelli, president and general manager of Atlas Copco Mining and Construction USA, says the move to have a dedicated board and management team focused on mining and construction would be welcome.
"It will allow us to be even more agile and responsive to the specific needs of our customers in those markets and to develop competitive products and support capabilities at a faster pace," Redaelli says.
This announcement follows the company's move announced earlier this month to sell off the road construction unit Dynapac. Fayat soon followed with announcement of its intention to buy the group.
The company also recently reported a summary of its year-end financial results with a record 20.3 percent operating profit margin in the fourth quarter.
"I am happy to see that our focus on increasing customers' productivity is resulting in strong organic growth," says Ronnie Leten, president & CEO of the Atlas Copco Group. "Both the equipment and service businesses performed well."
Leten will be stepping down after eight years in his role, with Mats Rahmström taking over as president & CEO on April 27 this year.