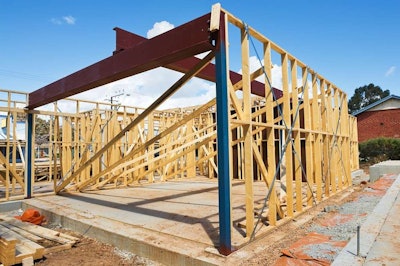 U.S. construction spending rose 0.5 percent during October due to gains in homebuilding and government projects.
Spending rose to a seasonally adjusted annual rate of $1.172 trillion and is 3.4 percent above the October 2015 mark, according to preliminary data from the Commerce Department.
Spending in the private homebuilding sector rose 1.6 percent to $466 billion during October, and is 4.7 percent above the year-ago rate. Spending on the construction of single-family homes rose 2.8 percent during October to a rate of $243 billion, while multi-family housing spending also rose 2.8 percent to $64 billion.
Nonresidential spending, across both the private and public sectors, fell 0.3 percent to a rate of $700 billion during the month but remains 2.6 percent above the October 2015 rate. Top percentage declines for the sector were religious, down 10.6 percent to $3 billion; health care, down 3.1 percent to $41 billion; and manufacturing, down 2.7 percent to $74 billion. Top percentage gains were public safety, up 9.1 percent to $8 billion; conservation and development, up 6.8 percent to $8 billion; and communication, up 3.8 percent to $19 billion.
Total spending from the private sector fell 0.2 percent to $886 billion while government spending rose 2.8 percent to $287 billion.