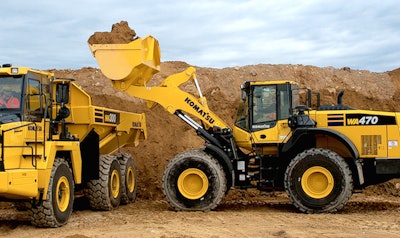 Komatsu says its sales are brisk in North America but continued difficulty with slack demand for equipment from Chinese customers and customers in the mining industry continue to drag down the company's bottom line.
The company reports sales of 1.37 trillion yen ($11.3 billion) for the first nine months of the fiscal year, which ends March 31. Sales are down 4.6 percent over the same period one year ago.
Net income for the period fell 11 percent to 104 billion yen ($860 million).
Unlike competitor Caterpillar, which lost $87 million during its fourth quarter and saw profit fall 43 percent in 2015 due to low mining demand as well as low demand from the energy sector, Komatsu's report makes no mention of energy customers or the decline in oil prices that has hit that market.
Komatsu calls its capture of equipment demand in North America "steadfast," describing demand in China as "drastically reduced."
Construction and mining equipment sales fell 5.1 percent during the period to 1.3 trillion yen ($10 billion). That segment's profit fell 19 percent to 137 billion yen ($1.1 billion).
As was forecast in April, Komatsu says it still expects sales to fall 5 percent to 1.88 trillion yen ($15.8 billion) with total profit falling 10 percent to 138 billion ($1.15 billion) yen.