Though the adoption of technology among U.S. construction firms has been somewhat disappointing in the past, there does appear to be an uptick occurring as mobile devices such as smartphones and tablets become more commonplace–and more necessary—on jobsites.
According to the Associated General Contractors of America's 2016 Construction Industry Outlook, 42 percent of the more than 1,500 firms responding to the survey said they plan on spending at least 1 percent of their gross annual revenue on information technology (IT).
That tally is up from 32 percent in surveys conducted by Sage over the last two years, but still lags behind the 58 percent of respondents that say they will spend less than 1 percent in the coming year.
In fact, 42 percent say they have no in-house IT staff at all.

In addition, 41 percent tell the AGC they will increase their IT investment in 2016 while 42 percent say they have formal IT plans in place. An additional 11 percent say they plan on implementing such plans in 2016.
The most widespread technology in use on U.S. jobsites are smartphones and tablets. Eighty-three percent of respondents told the AGC that mobile devices were their technology of choice for managing projects outside their traditional market area.
Meanwhile, 56 percent said they plan on using mobile software in 2016.
Of those, 76 percent said they plan to use their smartphones and tablets for daily field reports. Sixty-eight percent say they plan on using them to access customer and job information in the field while 67 percent will use the devices to share drawings, photos and documents. Here's the full breakdown: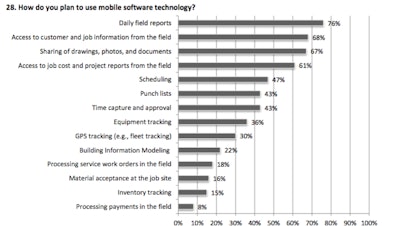 It comes as no surprise, but the AGC identifies collaboration as the primary application for all technology in construction with 71 percent using file sharing sites to share information with owners, subcontractors and other project partners. Another 40 percent say they are using online project collaboration software such as Procore or FieldLens.
In terms of software the firms said they plan to invest in during 2016, accounting software took the top spot at 25 percent, followed by estimating software at 22 percent and project management software at 21 percent.
Fleet management software remains far down the list, with only 12 percent saying they plan on investing in telematics.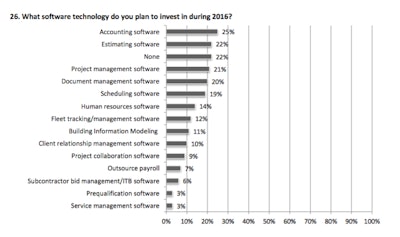 Reflecting what we've seen from the contractors we talk to, estimating/bidding software is by far the most popular technology contractors tell the AGC they're using to obtain work, gathering 69 percent of the respondents. Interestingly, social media finished second at an impressive 32 percent.