The Equipment World Contractor of the Year contest is now open for nominations. The program honors 12 finalists each year, sending them and their guests to Las Vegas for a weekend that includes an industry roundtable, focus group, awards banquet and a day at the Las Vegas Motor Speedway watching the NASCAR Kobalt 400. All finalists will stay at the premier Wynn Resort on the Las Vegas strip.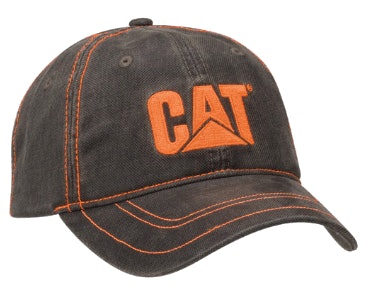 Contractors have until October 2nd to apply to the program, which has been sponsored by Caterpillar for the past 16 years. The contest is open to construction firm owners who have been in business 10 years or more, have between $3 million and $15 million in annual revenues and have an excellent safety record. The first 50 applicants to enter will receive the free Cat hat you see to the right.
"Winning the Contractor of the Year was probably the pinnacle of my career," says 2014 winner Jeremy Hiltz, Jeremy Hiltz Excavating, Ashland, New Hampshire. "Most of us are humble in this industry, and this gives you a chance to publicize your company." Hiltz also credits the program for making the difference on one bid: "We finaled on a large project, and during the interview process it came out that we were the Contractor of the Year.  That solidified the deal for us. We weren't the low bidder, but because we had won Contractor of the Year, they awarded us the project."
To enter, go to Equipment World's Contractor of the Year page, and click on the "Apply Now" button. You can either enter online with a convenient form or download an application form to print and fill out later. In addition to the information on the form, you are welcome to submit up to three supporting pieces of information such as newspaper clips, copies of awards or client reference letters.
Want to know more about the event? Then listen to our 2015 Contractor of the Year winner, Larry Merle with Genesee Construction Service, Dansville, New York, as he describes his experience: