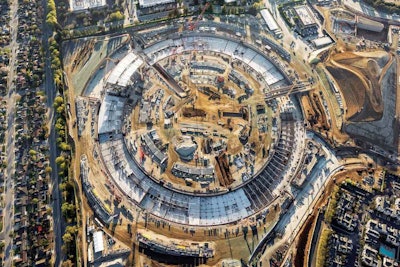 In an exclusive interview with Business Insider, a person who worked on the construction of Apple's spaceship-like Campus 2 project tells the publication the tech giant expects the same level of detail in the building's construction as it does when designing and building the iPhone.
According to the report, no expense is being spared on the futuristic building. The estimated cost is $5 billion and is due to be completed at the end of 2016. It will accommodate 12,000 employees and features a $161 million auditorium.
The source, who is no longer working on the project, says Apple employees would regularly refer to the iPhone in meetings with construction personnel as the primary example of what they were trying to build. The company is requiring the same level of precision that is in the iPhone 6 in its new campus.
The source adds day-to-day interaction is constant between Apple and the contractors regarding the work at hand. The strict requirements of the project could have played a factor in negotiations breaking down in June between Apple and a joint venture between DPR Construction Inc. and Skanska USA. The joint venture was awarded the project in 2013 but decided to cease involvement last month after a disagreement.
According to the report:
The site, shaped like an "O", is split into nine "wedges," and Apple employees are assigned to each specific geographic location. Employees from Foster + Partners, the architectural firm behind Apple Campus 2, are also on-site to supervise.
Comparing the Apple project to projects he had worked on previously with other tech companies, the source tells BI "this far exceeds that level … with all the local subcontractors and contractors being brought together from around the country it really is gonna elevate the construction standard. You know, if Apple now has raised the bar for construction standards, what's the next project? Is it gonna be higher than that? Is it gonna be an Apple standard?"