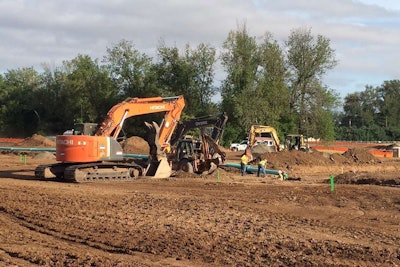 Thanks to a surge in new apartments, May's decrease in home construction starts was followed up by a sizable increase in June.
Construction on new homes jumped 9.8 percent in June to a rate of 1.174 million, according to preliminary data from the Commerce Department. The rate represents a 26.6-percent increase over June 2014 and the second-highest level since November 2007, Bloomberg reports.
The housing report also revised May's figure upward to a rate of 1.069 million, reducing what was a 11.1-percent loss to a 10.1 percent loss.
Single-family home starts fell 0.9 percent in June to a rate of 685,000 but remain 14.7 percent above the year-ago rate. Apartments made up for the slight decrease and much more, jumping 28.6 percent to a rate of 476,000 and are up 55 percent year-over-year.
According to a report from MarketWatch, the rate of apartment construction has reached a 28-year high.
Building permits meanwhile rose 7.4 percent in June to a rate of 1.343 million, up 30 percent year over year.
Builder confidence in the market is reaching record highs as well. Builder confidence rose 1 point to a 60, according to July's National Association of Home Builders/Wells Fargo builder sentiment index. Any reading above a 50 indicates most home builders believe market conditions are good.
It's the highest level the index has reached since November 2005.
"This month's reading is in line with recent data showing stronger sales in both the new and existing home markets as well as continued job growth," said NAHB Chief Economist David Crowe. "However, builders still face a number of challenges, including shortages of lots and labor."