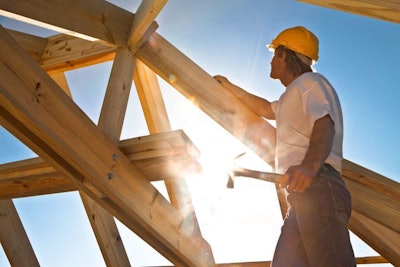 Construction spending in the U.S. was flat during February, the result of a slight increase in private construction and a decrease in government spending.
Total spending fell 0.1 percent during the month to $967.1 billion, according to preliminary estimates from the Commerce Department. Spending was up 2.1 percent over February 2014.
Residential and nonresidential construction spending both fell 0.1 percent to totals of $355.6 billion and $611.5 billion, respectively. Total residential spending is down 2 percent year-over-year, while nonresidential is up 4.6 percent.
Private residential spending fell 0.2 percent to $349.8 billion while private nonresidential rose 0.5 percent to $348.3 billion. Spending in the private sector totaled $698.2 billion in February, up 0.2 percent. Home building spending is now down 2.1 percent, year-over-year. Meanwhile, private nonresidential is up 5.9 percent.
Private spending on single-family home construction fell 0.2 percent in February to $203.8 billion but remains up 9.7 percent year-over-year. Multi-family home construction spending rose 4.1 percent during the month to $50.8 billion and is up 31.5 percent year-over-year.
The largest percent gains in nonresidential markets belonged to conservation and development at 11 percent to $8.4 billion; manufacturing at 6.8 percent to $69.6 billion and lodging at 5 percent to $16.6 billion.
Government residential spending rose 3.4 percent to $5.7 billion, but it wasn't enough to offset an 0.8-percent decrease in nonresidential to $263.1 billion. Total government construction spending fell 0.8 percent to $268.9 billion.