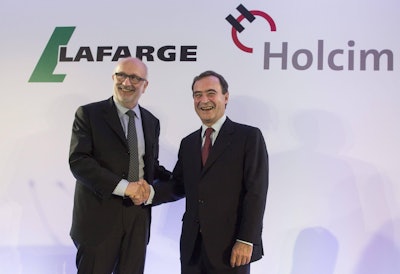 Shares in Lafarge fell by approximately 2 percent Monday after two Holcim shareholders voiced their discontent with the revised merger terms that were put in place on March 20 to make Holcim shareholders happy and keep the merger moving forward.
According to a report from Reuters, Russian businessman Filaret Galchev, Holcim's second-largest shareholder who owns a 10.82 percent stake via Eurocement Holding AG, rejected the new merger terms.
Galchev views the offer as "not satisfactory and half-baked," Swiss newspaper Sonntagszeitung reports, citing an unnamed source said to be a Galchev confidant.
Galchev believes the exchange rate of 10 Lafarge shares for nine Holcim shares still falls short of compensating Holcim shareholders adequately. He also wants to know who will lead the company after the merger, since Bruno Lafont is no longer in the running for CEO.
On March 27, another major Holcim shareholder expressed similar concerns. According to The Irish Times, Harris Associates, which owns 3.19 percent of Holcim's shares, said it was not prepared to back the deal until it knows who will take Lafont's place.
"Before we decide on the transaction, we first want to know who will be put forward for this post," David Herro, chief investment officer for international equities at Harris, says in an interview with Swiss business newspaper Finanz und Wirtschaft.