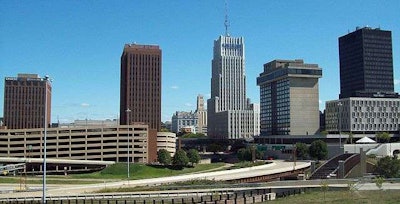 Discussion of a proposed city-owned construction company turned heated within the chambers of the Akron City Council Monday night over $1.9 million in heavy equipment purchases.
According to a report from the Akron Beacon Journal, Mayor Don Plusquellic has asked the council for approval to purchase or lease six concrete trucks and four dump trucks as part of his plan to start a construction company run by the city.
Councilman Bob Hoch led dissent against the plan, the paper reported, saying he sees little justification for such a company or such a big ticket expense. "We don't know what we're doing," Hoch said. Plusquellic admitted that all the details surrounding the new company hadn't been worked out yet, but said the city could use the equipment whether it ended up starting the company or not.
The company is Plusquellic's proposed solution to trouble the city has had with finding contractors that can meet local hiring goals as part of a $1 billion sewer project that is in the early stages.
Hoch argued the city has made a similar mistake in the past, reminding those at the meeting of a $2 million asphalt recycling system the city bought in 2008 in order to create local jobs but later sold back for a fourth of the original cost. "I don't want to make another $2 million mistake," he said. "We're a government. We're not a business."