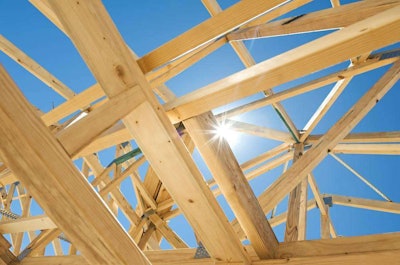 Despite an up and down year heavily-influenced by apartment construction, home builders in the U.S. began work on more new homes in 2014 than the previous year.
During December, starts on both single-family homes and apartments rose 4.4 percent to a rate of 1.043 million, according to preliminary data from the commerce department.
The final tally for the year is an estimated 1,005,800 homes started.
The latest report also revised the November rate upward from 1.028 million to 1.043 million. The revision turns what was previously reported as a 1.6-percent dip in starts during November into a 4.5-percent decrease.
Builders finished the year with a strong December, starting enough single-family homes to offset another dip in apartment starts. Single-family starts rose 7.2 percent during the month to a rate of 728,000, while apartments fell 4.2 percent to 339,000.
Single-family starts finished 2014 7.9 percent above the 2013 rate, with apartments up 0.3 percent.
With optimism heading into 2015, home builder confidence held steady, according to January's National Association of Home Builders/Wells Fargo builder sentiment index. After falling one point to a 57 in December, the index held at that mark in January. Any reading above a 50 indicates most homebuilders believe market conditions are good. The index has hovered in the upper 50s range for the last three months.
"After seven months above the key 50 benchmark, builder sentiment is reflecting the gradual improvement that is occurring in many markets throughout the nation," said NAHB Chairman Kevin Kelly in a prepared statement.
"January's HMI reading is in line with our forecast as we head into the new year," NAHB Chief Economist David Crowe said. "Steady economic growth, rising consumer confidence and a growing labor market will help the housing market continue to move forward in 2015."
The rate of permits, a good barometer of what to expect from housing starts in the future, decreased in December. Permits fell 1.9 percent to a rate of 1.032 million, but remains up 1 percent year-over-year. The rate of apartment permits fell 12.4 percent to 367,000 in December, while single-family authorizations rose 4.5 percent to 667,000.