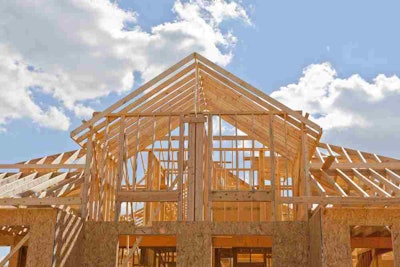 The rate of construction on new single family homes fell in November and with it went the rate of all U.S. home starts for the month.
Construction on single- and multi-family homes fell 1.6 percent in November to a seasonally adjusted annual rate of 1.028 million, according to preliminary data from the Commerce Department.
The latest report also revised the October rate upward from 1.009 million to 1.045 million. The revision turns what was previously reported as a 2.8-percent dip in starts during October into a 1.7-percent gain.
Home starts in the U.S. are now 7 percent below where they were one year ago.
For the last year, the rate of home starts has risen and fallen with that of apartments. But in November, a 7.6-percent increase in the rate of apartment starts to 340,000 wasn't enough to offset a 5.4-percent decline in the rate of single-family starts to 677,000. Apartment starts are now 12 percent below their November 2013 rate while single-family starts are down 4.6 percent.
Home builder confidence has fallen slightly as well. December's National Association of Home Builders/Wells Fargo builder sentiment index shows a decrease of one point to a 57. Any reading above a 50 indicates most homebuilders believe market conditions are good.
NAHB chief economist David Crowe said the index's stabilization over the last six months into the positive range met the association's expectation that the market is "on a slow march back to normal."
"Members in many markets across the country have seen their businesses improve over the course of the year, and we expect builders to remain confident in 2015," added NAHB chairman Kevin Kelly in a prepared statement.
The rate of permits, a good barometer of what to expect from housing starts in the future, decreased in November. Permits fell 5.2 percent to a rate of 1.035 million, down 0.2 percent year-over-year. The rate of apartment permits fell 11.1 percent to 367,000, while single-family authorizations fell 1.2 percent to 639,000.