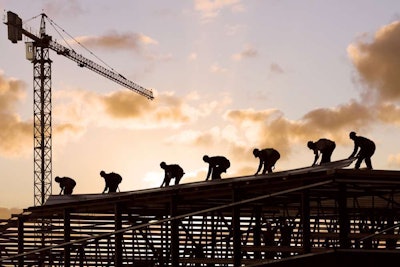 The U.S. construction industry extended its streak of job gains in August, adding 20,000 workers.
It was the eighth-straight month of gains for the industry which now employs 6.068 million Americans—the highest figure since May 2009, according to data from the Labor Department.
The new data also revised upward the July employment number from 6.041 million to 6.048 million, meaning that month saw a gain of 31,000 workers rather than the previously reported 22,000.
The industry's employment level is now 4 percent higher than it was one year ago. During 2014, the industry has averaged an addition of 24,000 workers per month.
The industry's unemployment rate however snapped a five-month streak of decreases, rising 0.2 points to 7.7 percent. The unemployment rate is 1.4 points lower than it was in August 2013.
Meanwhile, the U.S. economy added more than 142,000 jobs while the unemployment rate fell to 6.1 percent.