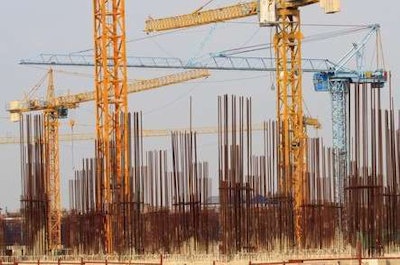 Construction spending in the U.S. saw a slight increase in May and for the second straight month the gains are largely due to increases in government projects.
Construction spending rose to $956.1 billion in April, an increase of 0.1 percent from the revised April figure of $955.1 billion. Due to the revision of that figure, what was a 0.2-percent increase in May is now an 0.8-percent increase.
Total spending is up 6.6 percent year-over-year.
Total government construction spending rose 1 percent in May to $273.3 billion. The biggest gain among government construction belonged to residential with a 1.8-percent increase to $5.1 billion. Nonresidential saw a 1-percent increase to $268.1 billion. Leading nonresidential gains was water supply with a 7.9-percent increase to $13.3 billion, followed by amusement and recreation with a 6-percent increase to $8.8 billion and sewage and waste disposal with a 3.9-percent increase to $21.5 billion.
Just last month President Barack Obama signed the $12.3 billion Water Resources Reform and Development Act (WRRDA) into law, marking the first water projects reauthorization in seven years.
Construction in the private sector fell 0.3 percent in May to $682.8 billion. Despite most economists hopes that once home builders escaped the harsh winter the industry would improve, private residential construction fell 1.5 percent to $354.7 billion. Home building remains 7.5 percent above where it stood one year ago at this point. However,  since January of this year, spending in the sector has fallen 2.5 percent from $364 billion.
Single-family home construction spending fell 1.4-percent to $187.5 billion while apartment construction fell 0.6 percent to $40.4 billion.
Private nonresidential spending on the other hand rose 1.1 percent to $328 billion in May. Leading gains there were power which rose 4.3 percent to $95 billion, communication up 2.1 percent to $16.3 billion and and religious which rose 1.5 percent to $3.7 billion.
Overall residential construction spending was down 1.4 percent in May at $360 billion. That figure is up 7 percent from the previous year. Overall nonresidential spending rose 1.1 percent to $596.1 billion, up 6.4 percent year-over-year.