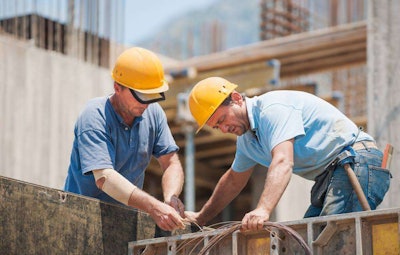 Wages for skilled tradesmen in the construction and mining as well as those in logging and manufacturing are on the rise, according to a new report from the Economist.
Citing data from the Bureau of Labor Statistics, the report says that hourly wages have grown at an annual rate of around 2 percent for the last two years. And in April, growth of hourly earnings accelerated to 2.3 percent from 1.5 percent in early 2012.
Why the growth? Nancy Lazar of investment advisory firm Cornerstone Macro told the Economist that it's likely due to the fact that the skilled trades are beginning to grow faster than the overall economy. Another large factor is the fact for construction at least is that the industry is in the midst of a widespread skilled worker shortage. In Minnesota, contractors are being told they'll likely need to up pay and reduce experience requirements in order to find enough workers for a busy construction season.
As those wages increase, some believe the worker shortage will scale down.
The Economist report also notes that the unemployment rate for high school graduates has fallen 4.4 points since 2010 to 6.3 percent—a rate much faster than that for college graduates which only fell 1.5 points to 3.3 percent.
That last stat is notable in that it should add a lot of weight behind the notion that a four-year degree isn't the only way to get a stable, high-paying job. TV host Mike Rowe has been championing that cause for the past few years through his mikeroweWORKS foundation which gives $15,000 scholarships to students enrolling in vocational schools.
Another of Rowe's projects, construction industry career campaign Go Build Alabama, recently addressed that issue head-on with an ad aimed at teens considering the possibilities of learning a trade. Go Build Alabama has helped boost trade school enrollments by 30 percent since its inception nearly four years ago.