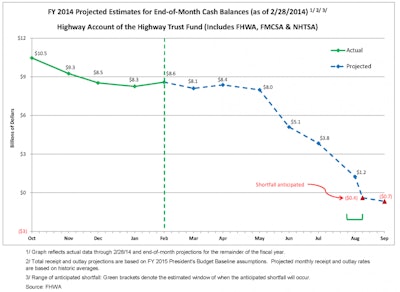 The U.S. Department of Transportation has updated its Highway Trust Fund Ticker to show that the fund could shortfall as early as the end of July.
The DOT notes that the HTF "will encounter a shortfall before the end of fiscal year (FY) 2014," adding that "the surface transportation program continues to outlay at a greater pace than receipts are coming in."
The HTF is funded by fuel taxes and is dedicated to funding highway projects. The balance has dropped by nearly $3.3 billion since $9.7 billion was transferred from the General Fund after the start of the fiscal year.
Last month, President Barack Obama proposed a $302 billion, four-year transportation reauthorization bill with the aim of avoiding the Highway Trust Fund's looming insolvency. The proposed bill includes $63 billion to fund the gap in the Highway Trust Fund in the near term. According to the White House, the funding would address the insolvency of the fund for four years.
By the end of February, the Highway Account cash balance stood at $8.6 billion.
The HTF Ticker is posted on the DOT's website and shows the balance remaining in the Highway Trust Fund. The Ticker was introduced in January by Transportation Secretary Anthony Foxx as a method of battling the "infrastructure deficit."
To see the DOT's Highway Trust Fund Ticker, click here.
Editor's Note: Amanda Bayhi is the online managing editor for sister site Better Roads.