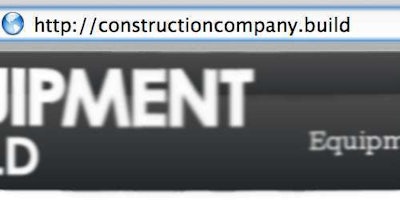 Very soon, rather than construction business' Web address ending in a boring ".com" or ".net," contractors in the U.S. will be able to register for a ".build" address.
And today, the Associated General Contractors of America announced a partnership with the group behind the .build domain name—the group is also called .Build—to get the word out about the new top-level domain (TLD) name and to help construction companies register their website at the best available prices.
"Our industry has been slow to acquire their online identity in the early days of the .com focused internet," George Minardos, CEO and founder of .Build said in a prepared statement. "The industry is now well positioned to adopt a more relevant namespace that actually describes what they do."
The .build domain (for instance,www.yourwebsite.build) was recently created by ICANN, the Internet's controlling authority. The domain will launch later this year and the AGC says TLDs like .build will become "an integral part of any company's web presence and Search Engine Optimization (SEO) strategy in 2014 and moving forward."
In other words, switching your company's website from a .com domain to a .build domain could help people find your company on the Web through search engines like Google and Bing a lot easier.
Plus, there are so many websites today registered with a .com domain that reserving a space with your company name can be pretty challenging. Maybe your company bears your name and your name happens to be fairly common like "Johnson Construction." You're out of luck because johnsonconstruction.com is taken.
And that leads to all sorts of finagling with different domains like ".biz" or ".net" or with the Web address itself.
Registering a .build will alleviate that problem a quite a bit. And if you already have a .com site, .Build says they'll work with contractors to redirect that original address to a new .Build site which provides design templates for a fresh look.
The domain will cost $99 per year but the benefits are fairly obvious. If you're interested and want to make sure you stake out your company's address with the new domain, .Build is accepting pre-registrations right now. You can visit their website by clicking here.
Both the AGC and .Build have booths at ConExpo 2014 this week. AGC is at booth 65278 and .Build is at 65831 in the South Technology Hall. Any contractors curious about the domain and at the show are encouraged to stop by one of the booths.