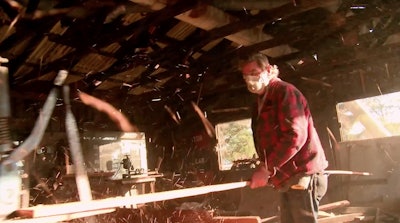 If you're looking for a positive message to start off the year, something about character, craftsmanship, leadership and where you're going to find the next generation of construction workers, take a gander at this. It may be the most inspiring nine minutes you'll spend this year.
[vimeo 78788086 nolink]
This video is about much more than making sawdust.
The subject of this short documentary, Eric Hollenbeck, talks about how manual labor shapes our character, how he's been able to take "court ordered, at risk" youth and put them to work in his Blue Ox Millworks shop and in doing so, help them to develop a sense of worth and a place in society. To quote from the video:
"They are great kids. There is nothing wrong with them. They're just doers, not sitters. At the shop they fit in."
I understand that you in the heavy construction field aren't in the business of saving souls or turning lives around. And it's a lot easier to teach a kid how to mill lumber than it is run a skid steer efficiently.
But given the dire shortage of skilled labor in all the trades these days, I think Hollenbeck's message is timely and valuable. Besides, what other choices do you have?
Dwight Eisenhower once said "leadership is the ability to get ordinary people to produce extraordinary results."
If you're looking for employees, ordinary is the best you're going to find in today's labor market. Making them extra-ordinary is your job, maybe the most important part. And there's no better place than construction, the trades, the manual arts, to make this happen.