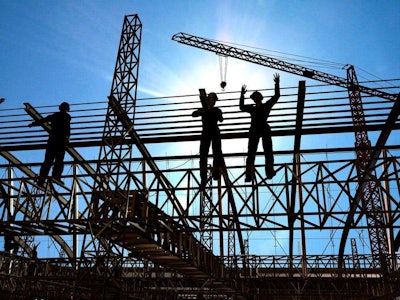 Construction spending in the U.S. rose 1 percent in November of last year to reach a nearly 5-year high.
Spending reached a seasonally adjusted annual rate of $934.4 billion in November, according to preliminary data released by the Commerce Department. That's the highest rate since May 2009 and 5.9 percent better than November 2012.
October's and November's results were delayed due to the partial government shutdown in October. October's results, released last month, were adjusted to $925 billion—a big improvement from the initial estimate of $908.4 billion.
Overall residential spending was up 1.7 percent to $351 billion. Nonresidential spending was up 0.6 percent to $583.4 billion.
The biggest gains came from private nonresidential construction which rose 2.7 percent in November to $313.8 billion. Private residential spending wasn't too far behind with a gain of 1.9 percent to $345.5 billion.
After strong gains in October, government construction spending fell 1.8 percent to $275 billion. Public residential spending took the hardest hit, falling 6.4 percent to $5.4 billion while public nonresidential spending fell 1.7 percent to $269.5 billion.