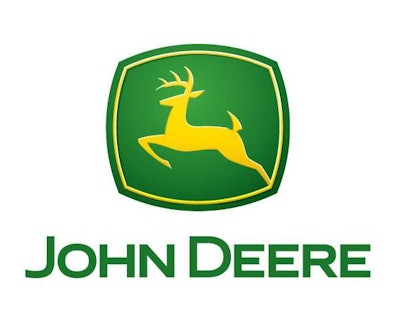 For the third straight year and the 14th-straight quarter, John Deere has announced record earnings.
And, based on the recovering economy and housing market, the manufacturer sees things pickup up for its construction equipment business in 2014.
The heavy equipment manufacturer announced Wednesday that profit for the fourth quarter of the year was up 17 percent over Q4 2012 to $806.8 million, while full-year profit rose 15 percent to $3.537 billion.
The company saw improvement during the quarter despite a 4.6-percent decrease in net sales of equipment to $8.624 billion. For the full year, equipment net sales rose 4.4 percent to $34.998 billion.
Equipment operations accounted for $650 million of the company's profit in the fourth quarter and $2.974 billion for the full year.
"Deere's performance is a testament to our ability to execute our business plans, which stress the rigorous management of costs and assets," said Deere chairman and chief executive officer Samuel R. Allen in a prepared statement.
Farm equipment sales decreased 4 percent during the quarter but increased 7 percent during the full year, compared to the same periods in 2012. Operating profit increased 7 percent to $996 million for the quarter and jumped 20 percent to $4.68 billion for the full year.
Meanwhile, construction and forestry equipment sales fell 8 percent in the quarter and the full year. Operating profit fell 1.6 percent during the quarter to $118 million. For the full year, operating profit fell 20.5 percent to $378 million.
Looking forward, Deere expects equipment sales to decrease about 3 percent during the 2014 fiscal year. It expects 2014 profit to drop 7 percent to $3.3 billion.
In 2014, Deere expects farm equipment sales to fall by 6 percent while projecting a jump in construction equipment sales of 14 percent. The gains in construction equipment are based on "further economic recovery and higher housing starts in the U.S. as well as sales increases outside the U.S. and Canada," Deere reported.