Like many who work in construction today, Ken Lester got his start as a teenager working for his father. His father was wise enough to start him as a laborer and let him develop a broad range of skills. He did everything from handling a shovel to welding on the equipment to operating it.
After he'd proven himself in the day-to-day operations Ken graduated to supervisory jobs and joined Lester Contracting full time in 1979. Today, with 33 years of experience under his belt, Ken runs the company, along with his wife Melissa.
When his dad retired in 1998, Ken took the reins full time. He knew that to grow the company beyond what his father had achieved he would have to learn more about business. So in his off hours he started taking business courses at a local college.
"Prior to that I was a construction hand," says Ken. "In my college courses I learned the business end: how to read financial statements, accounting, how to write professional letters, how to build spreadsheets."
"We've been quite successful just by answering the phone – and not answering it from the cab of a tractor."
Melissa also stepped into a role as controller with the company in 2002 and put her 19 years of banking experience to work managing the office. "She pays a lot of attention to the details," Ken says. She oversees the daily office operations and her banking experience has helped the company run efficiently.
The company does all its payroll, taxes and HR in house, which Melissa oversees. "Our CPA comes once a year and does our books, but that's it," says Melissa. The company uses a program with an equipment module on it to remind them of maintenance schedules. A payroll person and accounts payable person handle the paper flow in the office.
Melissa also instituted a direct deposit payroll system for all employees. "Before that we'd have a mob show up at the office on Fridays for their paychecks," Ken says. "They'd leave the job early and then take company trucks burning company gas to the bank to cash their checks. Direct deposit saved us money and made us more efficient."
Melissa's latest initiative is to take the office in a paperless direction by scanning and digitally storing as many of its documents as possible.
Thanks to their combined business acumen, Ken and Melissa have been able to grow the business from $2.5 million in sales in 1999 to $13 million today. The company even grew 50 percent in one year, from 2010 to 2011.
Big growth in a small town
Port Lavaca is a small town on the Texas Gulf Coast half way between Corpus Christi and Houston. One of the big challenges the Lesters faced in a small market like this was finding enough work to grow the company beyond the typical mom-and-pop earthmoving enterprise.
Lester Contracting had a good working relationship with Formosa Plastics, a giant industrial facility just on the other side of the bay, and fairly steady work from a small group of customers. But when the recession hit, Ken, like many, had to come up with a new plan.
Although Ken didn't lay off any employees, the first thing he did was to reduce employee hours. "We normally work 50 to 60 hours a week, based on the demand of our projects," Ken says. "Short term we reduced the hours to 40 hours a week. That gave us the time to search for alternative markets. We now work in a diverse range of projects, local, state and federal, private developers and the petrochemical industry."
Ready when the phone rings
The downturn also changed Ken's attitude about business prospects. "In '06 or '07 we'd look the other way on some projects," Ken admits. "Now when the phone rings the first thing out of our mouth is 'Yes.'"
Ken says his intention is to offer better service then anyone else in the community. "We want to be your guy, your horse in this race. What happens when those customers have a second project? You're the number they call," he says. "We've been quite successful just by answering the phone – and not answering it from the cab of a tractor, but having somebody answer the phone at the office and responding to it quickly."
In today's environment, Lester Contracting will work as a subcontractor or a general contractor and do projects that range from $500 to several million. That broad base of customers has allowed them to be successful through the downturn. "We'll take any job, from delivering a load of dirt to a multi-million dollar project. When you throw them all in the pot and they average out, hopefully you come out ahead," Ken says.
Customer satisfaction
Having a loyal and satisfied customer and a good reputation has been one of Ken's goals all along.
"He has a great reputation with the job owners," says Bobby Walker, vice president of Gulf Coast Limestone. "Their clients are always thrilled with their service. He just finished a project with the Nature Conservancy and they spoke very highly of him."
Dennis Rocha, coastal project manager for the Texas General Land Office has had a relationship with Lester Contracting since 2008. "He is very innovative when it comes to figuring out logistical solutions and economical solutions," Rocha says. "I've always found him to be frank, honest and upfront. He's very cooperative when working through issues that crop up on the jobsite. He's quick to make needed corrections and there has never been an issue with change orders."
Employees make a difference
Surrounding himself with good people has also helped the company grow. Ken sees recruiting and retaining qualified, productive employees as one of his greatest challenges. He does this by offering good pay and benefits and with training.
Most of the training is safety related, Ken says. But he has also invested in training his estimator on the use of high level software for doing estimating and takeoffs and invested in operator training as well.
Investments in technology
In 2009 Ken won a bid to grade a 70-acre school campus with a lot of complex grading, ball fields and elevation changes. He had been to ConExpo-Con/Agg, and studied the GPS machine control systems there, so he knew their potential.
Given the complexity of the job, Ken decided to invest almost $300,000 in a Topcon 3D GPS machine control system for his scraper and dozer and tackle the job with this new technology. Not only did it work, but it exceeded his expectations.
"It has been a big benefit for us, especially when we're grading a large area and don't want to set 1,000 blue tops," Ken says. "The GPS can get you usually within five-hundredths or so. Since then we've added two or three machines with 3D machine control." Ken estimates that he reached the payback period for his investment in GPS machine control in a couple of years.
The GPS go-to guy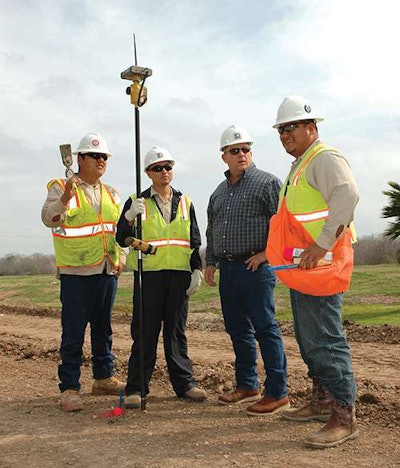 Ken gives a lot of credit for his success with the GPS system to his on-staff surveyor, Jose Alvarado. An experienced surveyor, Alvarado had only been with the company a short while when Ken made the decision to invest in GPS machine control.
"He took it and ran with it," Ken says. "The Topcon people gave us a number of support hours and some online training and he took advantage of that. But he pretty much figured it out on his own. He wanted to learn, he was self-motivated, and that impressed me."
Tracking trucks
The Lesters also invested in GPS tracking for their fleet of about 30 trucks, and that brought numerous benefits as well. "We did it for time management," Melissa says. "I just pick a couple of days a week and match it to their timesheets. Over time it has paid for itself. Thirty minutes here, ten minutes there. It adds up."
"It also helps with labor costs and fuel consumption," Ken says. "It helps with tracking our T&M (time and materials) job costs. We know where our vehicle are all the time and which jobs they're on."
Advice for new contractors
Ken's advice for up and coming contractors isn't innovative, but it's as true today as it was when Ken's dad passed it on to him.
"You have to be patient. You're going to go through some ups and downs," Ken says. "Persevere. That's important to survive the tough times. You have to provide your customer with a valuable service. Treat your customer fair and honest and that will help you build a reputation that will keep you successful and carry you into the future."
The other key to growth is being able to hire good people and delegate, Ken says. "I used to be a hands-on guy at my job. I wasn't comfortable unless I knew what was going on at every job. I was right in the middle of it. "
As he grew Ken came to trust his employees and crews. "You lose a little bit of comfort. You feel like you're losing a bit of control. You're relying more and more on your employees. But I think that's just what you have to do to grow."
And building the dream team doesn't happen overnight. "Sometimes it takes a lot of years to come up with that core group of people, but I think we've got that group nowadays."