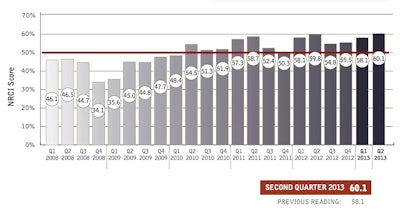 The FMI Nonresidential Construction Index has reached the highest mark since its inception in the first quarter of 2009. Released this week, the second quarter 2013 edition of the NRCI reached 60.1.
FMI, a management consultant and investment banking provider, surveys a group of panelists each quarter to measure the health of the nonresidential construction industry. FMI says this month's reading indicates a trend of gradual improvement, relating the industry to "The Little Engine That Could"—though slightly larger.
"We are talking about a very large engine pulling a thousand cars on rails and over bridges that aren't all in the best of repair," the executive summary of the index reads. "The economic infrastructure is still needing repairs just like the actual infrastructure of the nation."
The main issues facing the industry noted in the index were the effects of sequestration budget cuts and the skilled labor shortage.
According to the index report, only 19 percent of the panelists surveyed have seen any impact on their public sector work due to the sequester. And only 6 percent have seen an impact on private sector work.
FMI notes that it may just be asking the question to early as many panelists are still cautious since the sequester's budget cuts are still working their way through the economic and bureaucratic systems. In terms of how much effect they see the sequester having, panelists indicated up to a 4-percent loss in public project funding and a 1-percent loss in private construction business.
In terms of the labor shortage, the majority of panelists surveyed, 44 percent, say they have seen few shortages of labor in skilled craft labor. However, 25 percent say they have seen some regional labor shortages. And FMI notes that looking at a year from now, panelists expect the number of regional labor shortages to rise significantly and 22 percent expect "severe shortages for construction laborers."
You can read the full FMI NRCI second quarter report by clicking here.