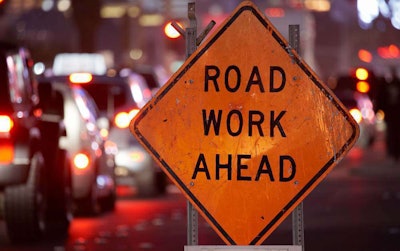 John Latta, editor of our sister publication Better Roads, has written an impassioned blog post with a very important topic: road construction work zone safety.
According to John's post, 38 percent of highway contractors who responded to a survey by the Associated General Contractors of America saw motor vehicles crash into their construction work zones in the past year. More than 18 percent of work zone crashes injure construction workers, and 8 percent of those crashes kill them.
Because of crashes in the past year, 21 percent of contractors reported that they had to shut down their jobsites. Of those shutdowns, 30 percent lasted longer than two days.
But the damage isn't only being done to workers on the site as 46 percent of contractors reported that drivers and passengers were injured in work zone crashes this past year, with 14 percent of those being killed.
John says a lot of highway contractors want tougher fines and penalites put in place for drivers who break the law in these construction zones. "If we are in a bipartisan desert at the moment, surely tougher laws and more mandatory training can be oases," he says.