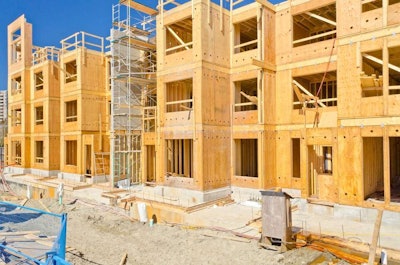 A nine-month string of increases in revised construction spending figures was snapped in January, falling 2.1 percent from December 2012 to a preliminary figure of $883.2 billion.
Despite the dip, spending remains 7.1 percent higher than January 2012, according to seasonally-adjusted data released by the United States Census Bureau.
Residential construction stalled from December to January, but the $311.1 billion figure is 21.1 percent higher than it was in January 2012. Nonresidential spending fell 3.3 percent month-to-month to $572.1 billion. That mark is 0.8 percent higher than one year ago.
Among the nonresidential market, lodging saw a major spending improvement in the past year with an 11.6 percent increase to $10.7 billion. Transportation also had a large yearly gain with a 12.5-percent increase to $39 billion.
Associated General Contractors of America chief economist Ken Simonson commented on the figures, saying the month-to-month dip in spending shouldn't be taken at face value.
"At first glance, January was a bad month for construction, with a sharp drop in private nonresidential spending, along with small dips in residential and public construction," Simonson said in a prepared statement. "However, the January figure was higher than the year-ago level. Moreover, steep upward revisions today in the preliminary numbers for November and December suggest January may ultimately prove to have been positive, as well."