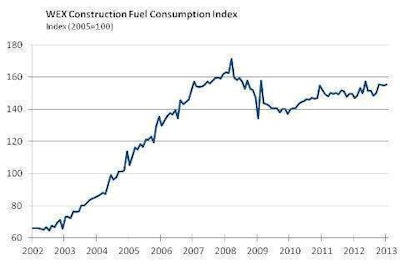 WEX and IHS have released results of the WEX Construction Fuel Consumption Index (FCI), which indicated an increase of 5.8 percent in January over January 2011.
The WEX Construction FCI measures national fuel consumption statistics for the construction industry to provide an up-to-date indication of construction activity in the United States.
For January 2012, the WEX Construction FCI reported that fuel consumption by United States construction companies increased 5.8 percent over January 2011 and increased 0.4 percent versus the previous month.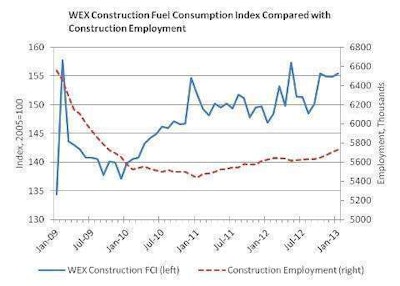 One interesting graph that accompanies the index charts fuel consumption as compared to construction employment. As you can see (click the graph for a larger version), employment (the red line) followed fuel consumption down to a trough in 2009 but is very slowly following consumption back up.
Last month's WEX Construction FCI reflected the nearly flat growth indicated by the seasonally-adjusted index in most of the government's subsequent construction data releases. Construction spending, excluding improvements, decreased by 0.6 percent in December, and private residential construction showed growth of 1.6 percent.
Total housing permits in December increased by 0.3 percent. Housing starts increased by 12.1 percent in December to an annual rate of 954,000—the highest since June 2008.
In January, growth slowly continued with an increase of 28,000 construction jobs following December's 30,000-job gain. Total construction put-in-place increased by 0.9 percent in December.
Despite month-to-month mild growth in January, the United States housing market is growing; however, new home sales in December decreased by 7.3 percent to a 369,000-unit annual rate.
Existing home sales decreased by 1 percent in December, and inventories fell to a 12-year low of 1.82 million units.
Home prices are on the rise nationally in most markets due to low home inventories, bringing more builders to the market. The housing market is expected to continue to improve and outperform the rest of the economy over the next few quarters because of low housing inventory and low interest rates.