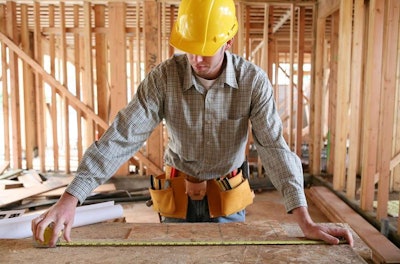 After stalling completely in January, builder confidence in new single-family homes was was virtually unchanged in February with a one-point decline to 46 on the National Association of Home Builders/Wells Fargo Housing Market Index (HMI).
The index's tipping point is 50. Once higher than 50, that indicates more builders have a good feeling about the housing market than not.
Last year saw several solid gains for the index. But in the past four months builder confidence hasn't strayed from a three-point range.
"This is partly due to ongoing uncertainties about job growth and consumer access to mortgage credit, but it's also a reflection of the fact that builders are now confronting rising costs for building materials and, in some markets, limited availability of labor and lots as demand for new homes strengthens," said NAHB Chairman Rick Judson.
As reported yesterday, construction materials prices rose 0.7 percent in January and 1.3 percent during 2012.
Despite the recent stagnation, the index remains near its highest point since May 2006. NAHB Chief Economist David Crowe said he expects "home building to continue on a modest rising trajectory this year."