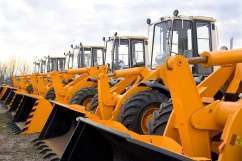 An encouraging 75 percent of construction equipment dealers surveyed by GE Captial Equipment Finance said they expect retail sales of construction equipment to increase at least 3 percent this year.
The finding is 10 percent better than last year's and 24 percent said they expect their sales to increase betwen 6 and 8 percent.
The survey was conducted between Jan. 15 and 17, 2013 and was made up of a relatively small sample size of 49 respondents. The respondents included a variety of construction industry participants.
Nearly half of the respondents (45 percent) said they expect earthmoving equipment to be in greatest demand for 2013, while 22 percent said compact equipment will most popular.
"These results appear to confirm what we're seeing, which is a gradually strengthening construction market," said Jim Kelly, general manager of GE Capital's Vendor Finance business. "Although there are a handful of U.S. economic issues that may create uncertainty and temporarily hamper growth in the first half of the year, it appears that retail construction is picking up, which should lead to increased commercial construction later this year or early in 2014."
Kelly said the federal highway bill, MAP-21, passed this past July, should increase public works construction.
More than 75 percent of the respondents told GE Capital that the best time to increase inventory would be within the first half of 2013. However, almost two-thirds said a lack of demand for new construction is their biggest hurdle for the upcoming year.
More than half of the respondents said improvement in the U.S. economy will have the biggest impact on construction. Cost of construciton materials and access to credit for their customers were next.