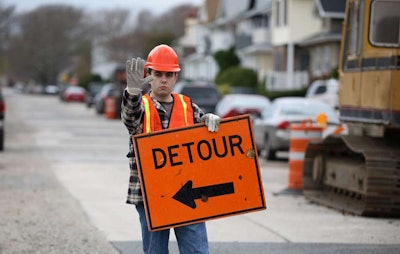 Prolonged periods of economic difficulty add velocity to evolutionary changes in many industries. The Great Recession and the long shadow it continues to cast on the construction industry is certainly an example.
Within the construction industry, the most obvious evolutionary change has been cautious, conservative business management strategies, but there have been many others as companies adapt to the new realities in their state, region or local market. One heavy earthmoving firm sailed through the trough of the Great Recession specializing in wind turbine farm installations. Other firms turned to building demolition, which unfortunately became a growth industry in the carnage that the recession produced.
For road contractors, the recession and the current moribund recovery have produced several new realities. Road agency budgets now give investment priority to preventive maintenance – mill-and-fill, crack-sealing, thin overlays, chip seals and other interventions that extend the life of the base pavement – while investment in reconstruction and new construction is secondary.
Major projects are mostly done at night with large incentives for finishing early or on time, putting a huge premium on the ability of contractors and subcontractors to meet schedules and quality criteria and operate in a narrow framework of time and logistics.
And for contractors focused on new construction, tolled highways and bridges are becoming critically important funding sources. Most recently, the state of Ohio reached a widely popular agreement to improve highway construction funding by floating a bond issue secured by future earnings from the Ohio Turnpike. Earlier, Indiana made headlines by leasing the Indiana Tollway to a private firm and using the revenue to finance road and bridge management for decades to come.
The state of Washington, desperate to raise money to replace an aging floating bridge, implemented an electronic tolling system that collected about $50 million in revenue in its first year of operation. The project is said to be on target to raise $1 billion for the replacement bridge, which will cost an impressive $4.13 billion in total.
Texas added a new answer to the challenge of making tollways attractive to highway users last summer when it won approval to raise the speed limit on its new SH 130 tollway to 85 miles per hour. Not everyone is thrilled with the idea, but for people in a hurry to get from Austin to Seguin, it offers a unique value.
These trends have been hastened by a U.S. Congress too dysfunctional to grapple with the challenge of budgeting adequately for infrastructure maintenance and refurbishment, but even if a Congressional renaissance takes place in two years or four years, these trends will be firmly in place. Preventive maintenance will remain the first priority of any intelligent pavement management strategy. Speed, quality and teamwork will remain minimum requirements for companies working on big road and bridge projects. And tolls will finance a lot of new bridges and new expressway projects for many years to come.