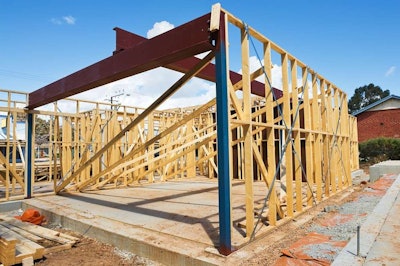 Construction spending increased by 7.8 percent in the year between December 2011 and December 2012, to a three-year high of nearly $885 million, according to seasonally-adjusted data released by the United States Census Bureau.
Month-to-month, the preliminary spending figure of $865.9 million was down 0.9 percent from November 2012's revised figure of $877 million. The slight dip is the second consecutive month-to-month decrease, Census data shows.
Residential construction saw a big 22.3-percent increase between December 2011 and December 2012 to nearly $314.5 million, while nonresidential construction saw a 1.2-percent increase to $570 million.
Among the nonresidential market, lodging saw a major spending improvement in the past year with a 16.1 percent increase to $11.6 million. Transportation notched a second consecutive big yearly gain with a 13.9-percent increase to $40.5 million. Transportation, however, was down 1.9 percent month-to-month. Power saw an 11.2-percent yearly increase to roughly $94 million.
Some of the largest yearly decreases were sewage and waste disposal, dipping 12.9 percent to approximately $20.7 million; public safety, dropping 12.7 percent to about $9 million; and religious, down 10.1 percent to $3.6 million.
Associated General Contractors of America chief economist Ken Simonson commented on the figures, saying the spending numbers mean good things for construction hiring. The industry added 28,000 jobs in December.
"We are likely to see continued strong growth in single- and multifamily homebuilding, moderate increases in private nonresidential construction and shrinking public investment levels for the next several months," Simonson said. "Those trends, in turn, will lead to a steady increase in the number of construction jobs."