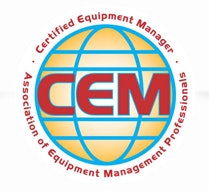 The Association of Equipment Management Professionals recently announced the dates and registration deadlines for its Certified Equipment Manager Exams. The tests will be held in all 50 states here in the U.S. as well as in more than 165 countries.
The CEM is construction's only recognized certification for judging the qualifications of a manager of heavy off-road equipment or manager of municipal/government fleets. Certification tends to signify an exceptional equipment manager.
The application fee for the exam is $40. The exam fee is $340 for AEMP members and $545 for non-members. Click here to download the application.
The exam will be available four times in 2013 and requires what the AEMP calls "a mastery" in 17 areas: Benchmarking; Customer Service; Employee Training; Environmental requirements as they apply to fleet management; Financial Management; Human Resources; Life Cycle Analysis; Negotiations; Outsourcing; Parts Management; Preventive Maintenance; Risk Management; Safety; Shop/Facilities Management; Specifications; Technology; and Warranty and Performance Guarantees.
You can view the full syllabus for the CEM by clicking here.
The deadlines for registration are:
March 25 – April 5; Application Deadline – February 25
June 24 – July 5; Application Deadline – May 26
September 16 – 30; Application Deadline – August 16
November 1 – 15; Application Deadline – September 30
To register for the exam, applicants must have a minimum of five years experience in equipment maintenance or management. A minimum of 25 points must be scored on the application in order to sit for the exam. However, applicants that do not meet the CEM requirements may be eligible for the Equipment Manager Specialist (EMS) exam.
Those who take the exam will be notified within 7 days whether or not they have been certified.
Visit the AEMP website for more information.