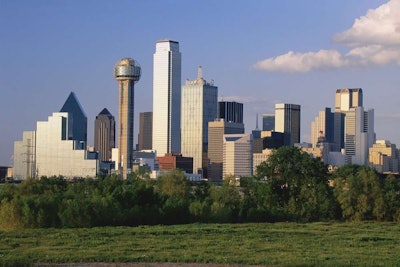 Residents of Dallas, Texas have seen their city literally transform around them in the past decade thanks to $2.3 billion in investment and redevelopment since 2002, the Dallas Morning News reports.
According to the News, the area is unrecognizable from 10 years ago. In fact, one oilman in the area says Dallas is experiencing a "coming of age" just as New York and Chicago have.
In the past year alone, the city has seen great additions including the Margaret Hunt Hill Bridge, the deck park, Belo Garden, City Performance Hall and the Perot Museum. Thanks to these additions, residents feel that the city's downtown districts are more connected than ever.
That's not to mention the 1,001-room Omni Hotel that opened in the city one year ago. The News reports that it has brought in even more conventions and has actually helped the business of other hotels in the area.
Upcoming projects the city is excited about? The University of North Texas is locating its new law school within the former Dallas City Hall building. And Whole Foods has decided to open a 38,000 square-foot supermarket on McKinney Avenue.
What's astonishing about the transformation is that it has drawn a multitude of people to live in the area. The News reports that just 15 years ago, only 200 people lived in Dallas's downtown area. Today that number is at 38,000 and in five years the city expects that number to grow to 55,000.
Be sure to read Cheryl Hall's excellent full account of the city's recent growth by clicking here.