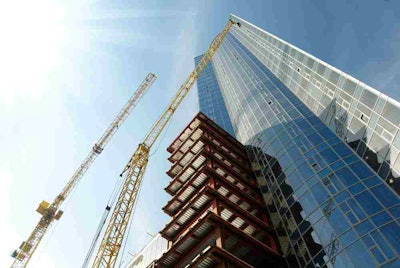 Toronto has the highest number of high-rises and skyscrapers under construction in North America, with its 147 such construction sites. That figure is more than twice as many as New York City, REM Online reported. The figures come from Emporis, a buildings database based in Germany.
In October 2012, Toronto held 15 more high-rise building sites than in November 2011, while New York City decreased from 86 sites to 72 between September 2011 and October 2012.
Despite Toronto's increase in high-rise construction sites, New York City will likely continue to remain the leader in total number of completed high-rises, with 6,009 high-rises already standing in the city. Toronto, which has completed 2,501 high-rises, would need to construct more than 3,500 additional high-rises to compete with New York City.
Emporis defines high-rises as multi-storey buildings of at least 35 meters, or of 12 to 39 storeys if the height is not known. Skyscrapers are buildings at least 100 meters tall, or 40 storeys and more.