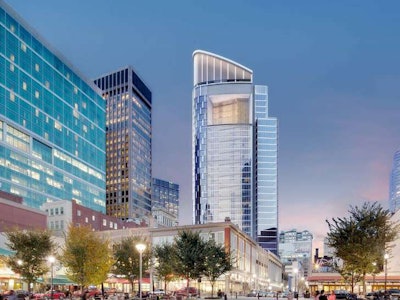 With an eye on promoting the revitalization of downtown Pittsburgh as well as energy conservation and organizational productivity, the Tower at PNC Plaza is likely PNC Financial Services' proudest design moment yet.
Architectural design of the building was led by Gensler while Buro Happold led engineering and Paladino & Co consulted on green design, according to Inhabitat. The 32-story building will be built in such a way to take advantage of sunlight for internal lighting and it "breathes" thanks to a double-skinned facade with windows that open and take in fresh air when conditions allow. The building "exhales" by expelling hot air out of its top.
The tower also seeks to promote community within the organizations that will call it home through its "neighborhoods." Two floors of the building will feature a double-height atrium that serves as a "town square" for employees to gather in.
The building is likely to be completed by 2015.