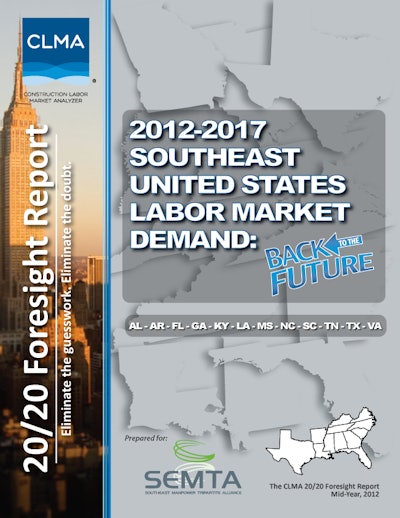 The Construction Labor Market Analyzer (CLMA) has released its 20/20 Foresight Report for Q4 2012, which forecasts a nationwide shortage of nearly 2 million workers.
The report estimates future labor demand for the Southeast Manpower Tripartite Alliance (SEMTA) region, which includes Alabama, Arkansas, Florida, Georgia, Kentucky, Louisiana, Mississippi, North Carolina, South Carolina, Tennessee, Texas and Virginia.
The CLMA was designed and ready for use when the downturn hit. The goal is to project the number of laborers in each trade through the reports of large construction owners about their upcoming projects to give an accurate forecast of what labor needs will be in the future.
The report looks at the reduced labor force in the construction industry and estimates 4.5 to 5 million nonresidential workers nationwide, including employed and unemployed. However, CLMA expects planned projects to increase the average demand to 5.3 million workers in the coming years, bringing the demand to a peak of 6.7 million by 2016.
According to the report, the majority of trades will see an increase in demand, but a lack of supply. The report demonstrates an expectation of shortages for most states and particularly for key industrial crafts in the Southeast United States.
Other highlights include:
A projected total estimated value of $2.7 trillion for projects starting in the United States between 2010 and 2017.
A total reported value of $1.3 trillion in the SEMTA region.
An estimated overall total project value of $298 billion in Texas.
An estimated industrial project volume of $131 billion in Louisiana.
A total of $877 billion in industrial projects beginning in the entire United States during the 2010 to 2017 period.
A total of $677 billion in industrial projects starting in the Southern region of the United States during the 2010 to 2017 period.
The report also looks at the labor demand, expected to rise from 2.4 million at the start of 2012 to 6.7 million in 2016; the quarterly nationwide labor demand, which is expected to average 5.3 million workers for all projects through 2017; overall labor demand in the SEMTA region, which is expected to average 2.3 million workers through 2017 and peak at 2.9 million at the end of 2016.
The report shows that Texas will likely experience the greatest overall demand, with a peak of 688,000 workers in the fourth quarter of 2016, while Louisiana is expected to experience the highest labor demand for industrial project
Read more about the 20/20 Foresight Report. To order a copy of the full report, call 859-339-5071 or click here.