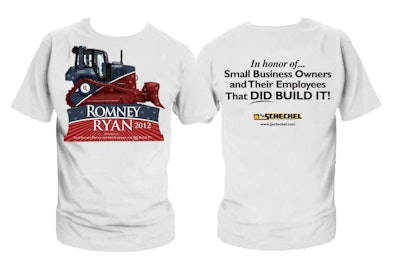 Josh Scheckel, the founder and owner of J.J. Scheckel Corp., was none too happy when the current president of the United States alleged that business owners didn't build their businesses themselves.
So Scheckel, whose company has been rebuilding and reselling construction and mining equipment for 16 years, is hauling a custom-painted dozer across the county this fall to show his support of the Romney-Ryan team. According to Scheckel's flyer:
"This message is for the army of individuals all across America, these are the people not looking for an easy way out, not looking for government entitlements, handouts or bailouts."
Scheckel isn't accepting donations. One of his employees and a retired friend volunteered to drive and sleep in a rented van for a month as they carry the bulldozer to Washington D.C. He is, however, selling T-shirts to commemorate the effort. For information on those and more about the effort got to his website here, or email RomneyRyanDozer@jjscheckel.com.