Intersection 2012
Events, product launches from the Dallas trucking event
By Equipment World Staff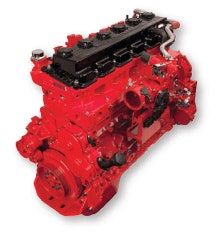 Cummins expects growth in natural gas engines
While enthusiasm is high for natural gas-powered vehicles, diesel engines will continue to power 90 percent of trucks, especially in on-road applications, said Cummins' Lori Thompson at the Commercial Vehicle Outlook Conference, part of Intersection 2012, a Randall-Reilly trucking event held recently in Dallas. Thompson, vice president for truck and bus OEM business, said today's clean diesel engines deliver the horsepower, torque and fuel efficiency customers need, plus they are as clean as alternative powertrains.
Nevertheless, trucking will see 8 percent to 12 percent growth in the use of natural gas vehicles over the next decade, Thompson said, as availability increases and the fueling infrastructure expands. For now, most demand for natural gas vehicles is within regional applications, but "barriers will be overcome and use will increase," she said. Over the past 25 years, Cummins has produced 40,000 natural gas engines, with more than 5,000 sold last year.
"We have a 12-liter natural gas engine coming out next year," Thompson said. This engine will fill the gap between the 8.9-liter and 15-liter Cummins Westport engines.
Thompson also discussed the 2014 greenhouse gas emissions regulations, designed to cut CO2 by a range of 3 percent in 2014 to 9 percent in 2017. The good news is that increasing fuel efficiency cuts CO2 emissions. For example, improving fuel efficiency by 6 percent saves 1,132 gallons of diesel fuel, cuts 11.45 tons of CO2 and saves $4,528 per truck per year.
Cummins will meet the 2014 regulations in 2013. Cummins has an advantage from its early decision to invest in and control emissions technology – filtration, fuel systems, aftertreatment, combustion technology, electric controls and turbochargers, said Thompson. Improvements to meet the 2014 regulations include reducing friction and parasitics to the base engine and improving heat retention and insulation in the aftertreatment.
Chevron unveils fuel efficient 5W/30 engine oil
Chevron says its new heavy-duty, 5W/30 engine oil is entering the market just as fleets are starting to experiment with using lighter viscosity motor oils to enhance fuel economy. The
Delo 400LE 5W/30 full synthetic is designed to help manage inventory costs by covering a wider array of engine options as well extend exhaust after-treatment. Delo 400LE carries a gasoline engine rating, so users will be able to use it in a wider array of vehicles and get a better handle on inventory control. The oil's low temperature performance has been validated down to -56 degrees Fahrenheit. In J1321 track testing, the oil delivered fuel economy boosts of up to 4.5 percent in both Class 6 and Class 8 vehicles. Chevron says Delo 400LE can reduce CO2 emissions by as much as 8,000 pounds per year with the follow-on benefit of increasing SCR and DPF life because a smaller amount of pollutants flow through those systems during that time.
Michelin's long-haul tire
Michelin's new X Line Energy D tire is built to offer the trucking industry better fuel economy, longer tread life and better traction than previous models, the company says. The top layer of the tire's tread rubber is balanced to provide the fuel efficiency benefits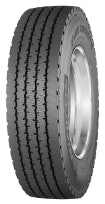 and resistance to tread scrub, while the bottom tread rubber layer has properties that promote cooler casing temperatures, helping lower rolling resistance and extend casing life. It also uses the company's proprietary MatrixTM Siping Technology, which promotes even wear and improved traction.