By Equipment World Staff
JCB: Quick software fix solves ULSD dilemma
JCB says its Tier 4 Interim Ecomax engines can be recalibrated to allow it to be resold in countries that do not use ultra-low sulfur diesel fuel, addressing mounting concerns that Tier 4 machines can not be sold outside the highly regulated areas such as the United States and Europe. "This recalibration won't sacrifice and of the performance advances we've made with these engines," says Ollie Howlett, JCB's engine service manager.
The engine "de-tiering" uses a software code to reset the engines, a change JCB says will take minutes at a JCB dealer, which will then apply a "non-emmissionized" label issued from the factory. The recalibration turns off the exhaust gas recirculation and reduces fuel injection pressures. JCB says its engines in theory could even return to Tier 4 Interim status with another software change, since no Tier 4-specific hardware is removed in the recalibration.
JCB used in-cylinder technologies, including 29,000-psi high pressure common rail fuel injection and variable geometry turbocharger, rather than using external gas after treatment or a diesel particulate filter. Cooled exhaust gas recirculation is used to further reduce emissions, passing a small amount of the exhaust gas back through the engine to cool the combustion process and reduce nitrogen oxides (NOx) within the cylinder.
"We've benefited from the fact we knew Tier 4 was ahead of us when we came out with our engines in 2004," said Graeme Macdonald, chief operating officer. The company has also benefited from its concentration on the 74-to-174-horsepower range, and the fact that 90 percent of its engines end up in JCB products. Approximately 70 percent of JCB machines have a JCB engine, and the company remains coy about expanding their horsepower offerings. It currently sells its engines to a smattering of non-construction-equipment manufacturers. Approximately 90 percent of JCB's engines are put into its own machines.
JCB also says the Ecomax engines will not require low-ash oil. The company had previously announced the engines would not need a diesel particulate filter. They also deliver a 5 to 10 percent fuel consumption improvement over the firm's Tier 3 engines, says the company.
Several new machines will have the Ecomax, including JCB's new generation of backhoes, wheel loaders, excavators and telehandlers (see article on page 49)
By Marcia Gruver Doyle
MAP-21
After nine extensions of the previous legislation, a new 27-month transportation bill finally made it through Congress. In a compromise that surprised many in the industry, the $105 billion Moving Ahead for Progress for the 21st Century was signed into law on July 6th. For Kirk Lander's take on the bill, turn to page 74.
Navistar changing exhaust technology for 2013
Navistar announced plans to use a new diesel emissions technology for its MaxxForce 13- and 15-liter engines that now rely solely on exhaust gas recirculation.
The new after-treatment technology is called In-Cylinder Technology Plus (ICT+), says Dan Ustian, Navistar chairman, president and CEO. No specifics were given on the technology as of press time.
ICT+,sounds similar to the selective catalytic reduction emissions systems used by all of Navistar's heavy-duty engine competitors in the United States. In making the announcement, however, Navistar went to pains to present ICT+ as distinctly different from "liquid-based after-treatment" systems. SCR uses urea-based diesel exhaust fluid. According to Steve Schrier, media relations director for Navistar, ICT+ combines the "best attributes" of the company's current EGR solution with a urea-based treatment system to reduce emissions."
Navistar's MaxxForce 13- and 15-liter engines will use ICT+ beginning early next year.
Navistar took advantage of banked emissions credits from the U.S. Environmental Protection Agency to work on its EGR-only solution past the Jan. 1, 2010 EPA deadline. However, those efforts failed to deliver a compliant engine and the company's bank of emissions credits is reported to be dwindling rapidly.
A federal appeals court on June 12 rejected EPA's ruling that allowed Navistar to sell heavy-duty diesel engines that don't meet the agency's 2010 emissions standards limiting the amount of oxides of nitrogen (NOx) in diesel exhaust.
An interim final rule (IFR) issued in January allowed Navistar to pay fines and continue to sell the noncompliant engines. Mack Trucks and Volvo Group North America then sued EPA over the IFR, arguing, among other things, that the agency had failed to give adequate notice and opportunity for comment.
With the new technology, "we have a high degree confidence in the certainty of approval by the EPA," said Troy Clarke, newly appointed president of Navistar's truck and engine business. "Based on what we've seen so far with new technology, we're excited. We are looking at key to meeting EPA's 2014 and 2017 Greenhouse Gas standards early."
Clarke – who is reported to be working hard to mend fences with the EPA and the California Air Resources Board (CARB) – said both agencies were "encouraged and supportive" of the company's new emissions approach. "We will manage this transition using both EPA credits and non-compliance Penalties in some states," Clarke added. "And we have been assured by both EPA and CARB that we will have more detailed discussions with them regarding our solutions." Schrier added that Navistar will continue to produce "compliant" engines for the remainder of this year, based on remaining credits and non-compliance penalties. —Jack Roberts
What about Cat?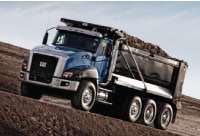 Caterpillar is a partner with Navistar on the Cat CT660 vocational truck. Navistar provides, in Cat parlance, the "donor truck" that is then built to Cat standards. And while the engines under the hood are painted yellow, they are Navistar MaxxForce diesels. Here's Cat's statement:
"Caterpillar will continue to sell and ship Cat Vocational Trucks with CT Series engines that meet EPA regulatory requirements. Navistar is our valued engine supplier and the company continues to supply us with quality, compliant engines for our Cat Trucks. Any questions related to Navistar's compliance with EPA requirements should be directed to Navistar."