In the past week alone, Microsoft unveiled a new tablet called Surface and announced an update to its Windows Phone operating system. But are these developments enough to stop Apple's iPad-fueled enterprise momentum?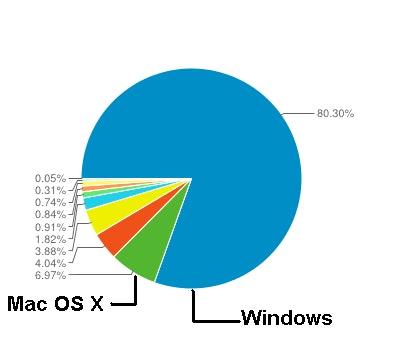 The blue Pac Man you see above gobbling every other piece of the pie is Microsoft Windows. The chart represents which operating systems most of Equipment World's traffic comes from. If you were to judge by this site's traffic, construction is an industry Microsoft has a pretty firm hold on.
I doubt that surprises you any more than it does me. Ever since Steve Jobs retook the reins at Apple in 1997, it hasn't been Apple's goal to seize market share away from Microsoft. Apple's goal has been to make great products and to profit greatly off of selling them. That goal has panned out. Riding the monstrous wave of success both the iPhone and iPad have enjoyed, Mac computers have been the fastest growing segment of the PC market for the past seven years. All told, Apple recently crossed the $100 billion mark in annual revenues.
But growing Mac sales hasn't frightened Microsoft. They still dominate the world PC market share. And, as our pie graph backs up, thanks to the lower hardware and maintenance cost and the ubiquity of Microsoft Office, Windows PCs are the choice of most industries and the enterprise space in general.
But what has caused concern for Microsoft is the iPad, which has been able to achieve an adoption rate in the enterprise space even the iPhone has yet to enjoy. When it comes to supplying associates with phones , the iPhone has always had more enterprise-established competition in the BlackBerry and cheaper competition in Android. The iPad on the other hand has no competition. Plagued by buggy software, low-quality hardware builds and a dearth of tablet-specific apps, the Android tablet space is a mess. Meanwhile, there's not a single Windows tablet on the market.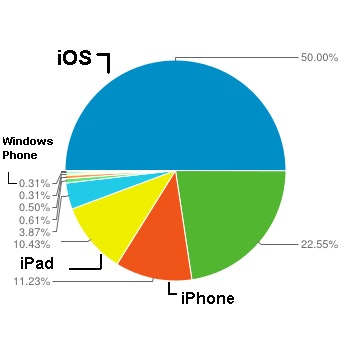 This graph shows how mobile traffic to Equipment World breaks down. The vast majority belongs to the iPad, iPhone and iPod Touch and it illustrates what Windows' absence from the tablet space, and the middling success of Windows Phone has led to. Even Windows-dominated sectors, such as construction, are quickly adopting the iPad and working to figure out how to implement the device in the field. There are already several apps for the iPhone and iPad that can be used on the job site. Well-known apps include Autodesk's AutoCAD WS, for reviewing, editing and sharing 3D designs, and PlanGrid, an app that uses the iPad to review and make instant changes to blueprints.
Both apps allow guys on the job site to make instant changes. Innovations like these have put all of the momentum in the mobile space behind Apple.
It took them more than two years, but Microsoft finally introduced its own iPad competitor June 18 in a device it calls Surface. Surface will come in two variants. The first runs Windows RT, a stripped-down variant of Microsoft's upcoming Windows 8. Windows 8's headline feature is its new Start screen, featuring a touch-friendly interface designed with tablets in mind. But Windows 8 will also allow access to the traditional Windows desktop for windowed, legacy applications like Office. This Windows RT version of Surface will be more in line with the iPad, meaning you'll be locked into that Start screen interface for everything other than file management and running Office. The Surface RT also runs on a lower-powered mobile processor.
The second model is dubbed Surface Pro and will run on the full version of Windows 8. It's powered by Intel's high-powered, Ivy Bridge desktop processors and offers access to the classic, windowed interface. Microsoft's motto ever since it announced Windows 8 last summer has been "No compromise," and they follow through completely on that with Surface Pro, essentially a full-on PC in a tablet's body.
Microsoft took great care in designing Surface to serve as a laptop replacement. To that end, models of the tablet feature a built-in kickstand and an ingenuius cover similar that attaches magnetically to the tablet and protects the display. But on one side, the cover has a full, raised touch keyboard and trackpad. And if touch keys aren't your thing, a separately sold version of the cover will have physical keys as shown below.
In many ways, this is the tablet IT departments have been hoping for. And for many companies, the fact that Surface will be the only tablet that runs Microsoft Office will be reason enough to seriously consider it over the iPad.
Continuing its mobile push two days after unveiling Surface, Microsoft detailed the next version of its phone operating system, Windows Phone 8. Designed with the next generation of smartphones in mind, Windows Phone 8 supports chipsets with up to four cores of processing power. But the biggest news from this preview was that for the first time, the Windows desktop OS and the Windows Phone OS are built on the same foundation. Microsoft referred to this foundation as "Windows Core" and it means that the two operating systems now share the same kernel, networking, multimedia and driver support.
This development leads in nicely to the ways that Microsoft has made Windows Phone better better for enterprise. First, because of the shared Windows Core, IT managers will be able to manage Windows Phone 8 devices with the same software they use to manage Windows PCs. Plus, Windows Phone will inherit UEFI secure boot and encryption from the Windows Core. ZDNet did a bit of digging at the Windows Phone event and found that this new encryption is derived from "BitLocker Encryption" but is not named "BitLocker" because of "differences in key escrow and manageability."
Another cool tidbit from that ZDNet report is that Microsoft will license companies to sidestep the Windows Marketplace and sideload their own apps directly onto Windows Phone devices. They'll charge companies a small anuual fee for this, but it comes with the ability to create a company hub within the device that serves as a place for employees to check for new apps, announcements, news and more. For the first time, companies will be able to tailor smartphones for their associates.
Microsoft has done well in matching the identity of Windows 8 to the established aesthetic of Windows Phone. Even more exciting is that because of their shared core, the two OSes will be able to integrate and interact on a much higher level than before. Then there's Microsoft's SkyDrive cloud service and its ability to sync Office documents and more data across these devices. Plus, there's going to be a huge opportunity for developers to craft apps that work identically on both Windows 8 and Windows Phone 8 devices and that's a huge selling point for the Windows Core platform.
There is still a lot of uncertainty surrounding both Windows Phone 8 and the Surface tablet. The tight integration is a great selling point, but Microsoft has an enormous amount of ground to make up in both phone and tablet share. Apple has sold more than 345 million iPhones and iPads combined. Meanwhile, the iPad's low entry price of $399 for the iPad 2 is still a point of perplexion for most competitors. Beyond the fact that Microsoft took much too long in announcing it, the Surface doesn't even have a price or a release date yet. And a price competitive with the iPad will be tantamount to its success. Meanwhile, the current version of Windows Phone is plagued with a wonky multitasking system and a lack of quality apps.
There are two other possible hinderances to fast adoption of Microsoft's renewed mobile platform. First, Windows 8 is a major departure from Windows 7 and will mean a very real learning curve that will make many companies take pause before upgrading. Second, Windows Phone 8 will not be avaialable as a software upgrade to current Windows Phone 7 devices. That means buying completely new devices when Windows Phone 8 launches near the end of the year.
So, it's much too early to predict whether the Surface will become a true foe for the iPad or if Windows Phone devices will ever be a perfect package, combining several choices of great hardware with a carefully-built OS. But the similarity and interplay between Windows Phone devices and the Surface tablet could become the epitome of platform consistency across devices. And if that happens, Microsoft has a great shot at capturing the majority of enterprise's mobile share.