Sandra Cox
Nacogdoches, Texas
An emphasis on quality and operational controls keeps this contractor steady through the downturn.
By Marcia Gruver Doyle
Cox Contractors
Year started: 1977
Annual volume: $11 million
Markets served: Commercial, government and private general building construction
Cox Contractors has seen its company's volume of contracts more than double during the past five years, something Sandra Cox attributes to the repeat business and referrals they get from satisfied customers. "But even so, we've tried not to grow too fast or overload our people," she says. "It's always a juggling act."
Sandra – or Sandy, as she's most commonly called – serves as president of the firm, using her MBA to concentrate on estimating, accounting, job costing and general management. "Sandra is very, very punctual," says John Chassell with A-1 Rental. "You could set a clock by when we get their checks. And they're an employee-oriented company. They are eager to do the right thing and will help their people out in any way they can."
Sandy's husband Stephen serves as Cox Contractor's secretary/treasurer, and has worked in construction since he was in high school. Stephen concentrates on superintendent duties, bidding and negotiating jobs, scheduling and overall co-management of the business.
This general construction/construction management firm specializes in general building construction for a variety of commercial, governmental and private clients. Starting in 1977 as a one-owner concrete specialty contractor, the company now finds that more than two-thirds of its projects are for local school districts.
"They've really grown," says James Crelia with Few Ready Mix. "In the five-county area I serve every school is doing some kind of new construction and Cox has gotten a good portion of it because of their top-notch reputation. I can name every superintendent they have with every crew because they've all been with them at least 10 years."
Foot in the door
This growth isn't just the product of hard work. Sandy studied the local market, and became frustrated when the company made more than 15 unsuccessful bids for work at the local Stephen F. Austin State University. On the advice of someone at the university, the company applied for and received a Historically Underutilized Business certification from the State of Texas. "It opened some doors at the university and we began to do general contracting work for them," says Sandy.
While the HUB certification has helped, so has the firm's reputation for providing high satisfaction. In its 34-year history, Cox Contractors has completed all of its projects on (or ahead of) schedule and on (or under) budget. "We'll do anything from a little bitty sidewalk to a $14 million project," Sandy comments. "Our ability to do all types of concrete work has kept us going."
Sandy keeps an eagle eye out on bid reporting services, deciding which jobs to bid on – or not. "There are some we just need to pass on," she says.
School days
In addition to working for the university, the company has a standing contract to do all of the concrete repair work in the city of Nacogdoches. But the bulk of their work is for area school districts, such as the Cushing Independent School District, usually putting in additions or new construction. "Some of the schools like to use our construction management services, and some of them still want a hard dollar bid, so we do both," Sandy says.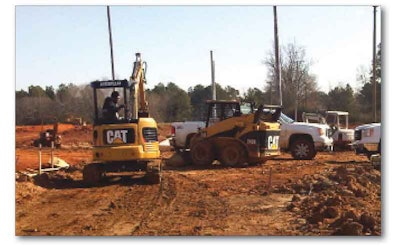 Fortunately, area school work picked up just as the economy was going south. "We had some cutbacks, but we still had work," Sandy says. "Adjusting our profit according to our workload is something I have to stay ahead of – it's probably one of the hardest things I have to manage."
Know what you've got
Before Sandy came on board, Stephen had hired a bookkeeper for his then fledgling company. Unfortunately, this person left things in a mess, and Steve turned to Sandy for help. "I realized then that a lot of contractors don't have a clue whether they're making money or not," she says. "If they have money in the bank, they think they're making money, but that's not always the case."
And so Sandy pays close attention not only to each job's profitability, but also accounts receivable and accounts payable. "If you keep a handle on those three things, you'll be successful," she says.
Her prompt pay attitude is reflected in how the company treats subcontractors. "We were a sub for a long time, so we know how they feel, and we try to treat them the same way we'd like to be treated," she says. Cox Contractors will work with subs to help them fill out necessary paperwork, such as AIA Applications for Payment. "It will scare them to death, and so our office manger will sit down with them and train them on how to fill it out," Sandy says.
The firm also recognizes when it needs extra help, and has hired a former university president part time to help them form their proposals and market their services to educators. "He knows what they're looking for," Sandy says. "He can talk their language. It's worked out well."
The right machine
Sandy and Stephen worked out of their home until 1986, when they built a 3,000-square foot office on a 20-acre site on the eastern edge of Nacogdoches. The office complex has grown over the years and now includes a shed and storage facilities.
When it's not on a jobsite within the 90-mile radius the company works in, the company's equipment is stored at an offsite construction yard. Cox Contractors' fleet includes backhoes, skid steers and compact excavators.
"We've really come to appreciate the mini excavator," says Sandy. "We used to put in concrete beams using a trencher, but we rented a mini one day and bought it the next. We made a 20 percent profit on that job, and we had budgeted for a 5 percent profit, so it really made a big difference. Now we don't use either our backhoes or skid steers as much anymore."
Rewarding work
"Sometimes owners get the idea that their construction job is going to be perfect, but it never is," Sandy comments. "There is always going to be something that someone didn't think of. But it's also very rewarding. You have a strong sense of satisfaction when a job is complete."
"They are quick to respond to problems, questions and the request of both architects and owners," says Jerry Sutton with Morgan Hill Sutton & Mitchell Architects, Lufkin, Texas. "They are a pleasure to work with." EW