Nissan enters commercial vehicle market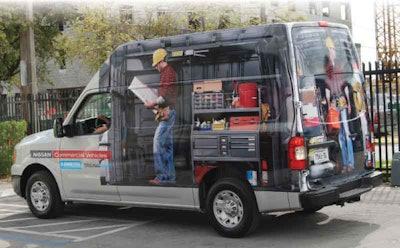 New commercial dealer network will support dedicated, commercial-grade NV work van
By Jack Roberts
A few years ago, at the NTEA Work Truck Show in Chicago, Nissan asked heavy-duty truck journalists to dinner one evening. This was a bit odd, because outside of its Titan pickup truck line, Nissan didn't have a presence in North American vocational and commercial vehicle markets – although they were a major player in those markets in Europe and Asia.
At dinner, executives from Nissan's newly-formed Commercial Vehicle Group let us in on a little secret: Nissan was targeting the North American light-duty commercial van market with an all-new design. The van, they said, would bring some fresh ideas to a "stagnated" market segment and address shortcomings Nissan had identified with current delivery vans.
And so this February, I was finally able to inspect and drive both versions of the new Nissan NV commercial van. My initial reaction? The Nissan team has delivered on the promises they made that cold Chicago night. Nissan is giving small construction and landscaping businesses a modern, clean-sheet vehicle design complete with SUV-level cab amenities and a forward-mounted engine for easy maintenance – all for the relatively low price of under $25,000.
Mike Hobson, Nissan's director of light and commercial fleet vehicles, says commercial vehicles – including heavy-duty trucks and buses total about 20 percent of Nissan's annual sales globally. "We felt we could use that expertise to make an immediate impact in the United States and Canada," Hobson says.
Initially, Nissan considered updating one of its European van designs and simply importing it overseas. But an in-depth study of North American van use quickly convinced the company of one fact: "We found out an imported product just wasn't going to cut it," Hobson says. "To meet the durability, ride, comfort, handling and power requirements North American customers have, we were going to have to design a van specifically for this market."
Robust styling
That clean-sheet design is evident in the NV van's robust exterior styling – which bears a strong family resemblance to Nissan's Titan and Frontier pickup trucks as well as the Armada SUV. That familiarity continues inside, including seating, instrumentation, visibility and noise-dampening. "Current vans tend to favor cargo more than the driver," says Peter Bedrosian, senior manager, product planning. "So we placed emphasis on the driver by making them more comfortable and productive."
Bedrosian says the most visible aspect of this philosophy is the engine – which is emphatically not in a doghouse stuck between the driver and passenger seats. "Those engine doghouses ranked low in the customer surveys we did," he notes. "They limit the amount of foot space and legroom available in the cab and even the best designs are difficult to service. What's more, over time, the doghouse seals fail, which leads to high levels of engine noise on the driver compartment."
The Nissan design team made certain the NV vans would be productive as well as tough. The starting point for the "panel van" concept is an all-new, durable body-on-frame construction coupled with a fully-boxed frame design for additional strength. This body-on-frame design was carried through on high-roof versions of the van, which offer 105 inches of usable storage and work height in the cargo area, compared to 83.9 inches of roof height in the standard van. NV van high-roof models offer 323.1 cubic feet of cargo volume, compared with 234.1 cubic feet in standard roof versions.
The NV's cargo area is designed for secure, safe transportation, easy access to tools or work benches, and faster and easier loading and unloading. Nearly vertical sidewalls maximize walk-through storage space and allow easy installation of aftermarket storage systems or a bulkhead behind the driver and passenger seats without drilling holes or other major modifications. Additionally, reinforced mounting points are positioned throughout the cargo area to aid in aftermarket installations. All cargo pre-wiring packages have been optimized for fast and easy aftermarket up-fits.
On Nissan's must-have list for this product: rear-wheel drive and an optional, 5.6-liter, 317-horsepower V-8 engine, which gives a 9,500-pound towing capacity. (The standard 4.0-liter V-6 engine puts out 261 horsepower.) Both engines are mated to a standard, five-speed automatic transmission.
Underneath all NV models you'll find an independent, double-wishbone front suspension, solid rear axle with rigid leaf springs and stabilizer bar and heavy-duty, hydraulic-assist, four-wheel disc brakes with ABS and electronic brake force distribution.
Nissan says it is currently in the process of establishing commercial dealerships to support the NV van, which went on sale last month. The company intends to have a total of 300 commercial dealers by the end of 2012. These dealerships will offer dedicated NV van service, service bays with 12,000-pound lifts and a commitment to stay open 60 hours a week in order to support the new van.