Larry Phillips
Vine Grove, Kentucky
By Amy Materson
Phillips Brothers Construction
Year started: 1981
Annual volume: $10 million
Markets served: Excavation, site development, utility work, demolition and commercial building.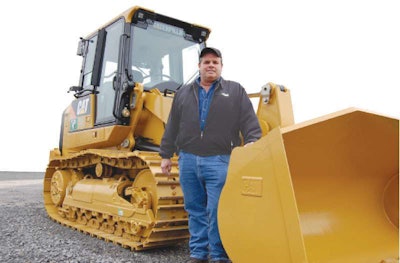 Originally working for his family's dairy farm, this heavy equipment buff decided if he was going to toil so hard, he might as well make some money in the process.
Larry Phillips always loved equipment. As a young man working on his family's dairy farm, he was the guy who did all the greasing and fixing, and moonlighted as a mechanic during the summer. Although the whole family worked for the dairy, Larry says it wasn't profitable enough for his father, Donald, who supplemented the farm's income by launching a homebuilding venture in 1965.
Donald's business gave Larry and his brother Jerry their first experiences in construction, and they both got hooked. After deciding construction was more profitable than dairy farming, the two formed Phillips Brothers of Hardin County in 1981. The brothers performed a range of work, including drilling for gas wells and small site prep projects. By 2001, Larry and Jerry were each operating their own divisions, and decided on an amicable split, dividing into Phillips Brothers Homes and Phillips Brothers Construction. "Jerry had two boys that wanted to come into the business, and he wasn't involved on my side," Larry says. Once the divisions split, Phillips Brothers Construction took off – more than tripling its volume between 2002 and 2006.
Golden opportunities
Phillips Brothers now has more than 50 employees based in a complex that sits on the site of the old dairy farm. If you drive by, you won't even realize it's a construction company, as Larry has never put a sign on the road. He really doesn't need one to attract business, though.
"We believe our greatest ally is having satisfied repeat clients who also provide referrals," he says. With that in mind, Phillips often works with the same general contractors, on a variety of commercial and governmental projects in a 100-mile radius. With Vine Grove's proximity to Fort Knox, Phillips Brothers has done a number of jobs in conjunction with general contractors Turner Universal Construction out of Huntsville, Alabama, and Columbus, Ohio-based Barton Malow. This spring, the Fort Knox Human Resources Command, a $181-million project Phillips Brothers worked on with Turner Universal, was completed ahead of schedule. The firm's $9 million contract included design assistance, clearing, earthwork, pavements, erosion control and utilities.
John Fleming Sr., Turner's senior project engineer, says he'd use them again in a heartbeat. "They know how to do it and get it done," Fleming says. "You don't have to nursemaid them, and they have no negatives in their safety program. We've had 30,000 man hours with no incidents or accidents. There's a depth to the company so they can react to situations, and they're responsive."
Realizing working with governmental agencies would be complex and require the best available resources, Larry made sure he had the latest in cost accounting, site work estimating and modeling software, including in-house surveying capability in GPS and robotic forms. Those resources extend to Phillips Brothers' project managers, which include civil engineer Cliff Smith and estimators Cory Redmon and Matt Curran, both of whom have degrees in architectural design and construction management. Smith performs double duty – serving as a project manager and as the company's safety director, assisted by Amie Priddy. Larry also values long-term experience, and relies heavily on Larry Rice, a 34-year construction veteran who serves as his superintendent of operations, and Jim VanTassel, an expert in field coordination and logistics. Larry's wife Linda is the company's payroll clerk, and shares benefits administration duties with Mary Jo Priest.
Conquering challenges
Phillips Brothers' diversification has carried them through economic downturns. The mix of public and private work, as well as their scope of work, has kept them busy. Larry sees the challenges of the current marketplace – particularly underbidding – and has put strategies in place to adapt. "A contractor with limited work who is leveraged will not stay in business long, especially if he does not know his actual costs," he says. In addition to knowing your costs, Larry recommends having good estimators on staff, and places a high premium on being patient. "Companies will have to downsize or search out different market sectors and wait out the downturn."
Phillips is known for meeting challenges head on, and he's particularly good at developing strategies to help a client stay on time and on budget, says Brian Herrin, a federal account executive with Turner Universal Construction. On a U.S. Army Corps of Engineers project at Fort Knox, the company uncovered unexploded ordnance during excavation – more than 150 spent and live shells from the 1920s and 30s. "They did a great job developing a strategy," Herrin says. "They created alternate areas so we could keep on working. We dealt with this problem for three months – the Corps actually shut us down for a month – but we ended up not being behind at all. They worked with us and kept their equipment running during a tremendous challenge."
High standards
Larry also puts a premium on maintaining his equipment. "We got a job once for having clean equipment," he says. His onsite shop is manned by brothers Jeff and Billy Sipes and mechanic J.J. Scarborough, who handle preventive maintenance and non-warranty repair work. One of the brothers is a machinist, so if Larry can't buy what he needs, he has it fabricated. "He's almost a fanatic about maintaining his equipment," says Larry's bonding agent, Ray Hundley of Smith Manus. "Sometimes contractors will run a piece into the ground, but not Larry."
Larry rarely rents, preferring to purchase a mix of new and used equipment, and currently has a fleet that includes a half-dozen high-lift track loaders, three graders, five backhoes, two wheel loaders, nine scrapers, eight excavators, nine dozers, four rollers, four skid steers and a dozen trucks, including two mechanics and one lube truck. Always watching the bottom line, Larry monitors online auctions such as IronPlanet to see what's out there at what price. He's willing to spend what's needed, though, outfitting his equipment with GPS three years ago at a cost of $200,000. "We were getting ready for big projects," he says. "And on two of the jobs, having the GPS has saved us a ton of money." Larry says these are decisions you need to make to be successful. "Buy good quality equipment, good quality accounting software and good quality takeoff programs," he says. "Surround yourself with quality."
Larry's serious attitude to quality extends to his free time – he's an avid tractor pull fan who has competed with his own team for more than 15 years. Phillips' team, Insanity, has even won a national title. He's so involved in the sport that he officially had the street he's located on renamed Insanity Lane. EW